Dell officially launched the Latitude XT Tablet PC, its first foray into tablet computing. The Latitude XT has a 12.1-inch touchscreen display and is tailored for mobile professionals. The Latitude XT can be configured with a 64GB solid state drive and an extended battery that provides up to 9.5 hours of runtime.
âہ"Dellâ€â"¢s plan to enter the tablet PC market will help promote the platform among its large number of customers and help facilitate the product category to go mainstream,â€Â said Doug Bell at industry analyst firm IDC.
The Latitude XT is designed with the future in mind with the capability to support multi-touch. As the technology matures, the system can serve as a premiere development platform for applications that can take advantage of multi-touch.
âہ"By integrating our DuoSense technology into the Latitude XT, Dell creates the ultimate machine destined to lead the tablet PC market,â€Â said Amihai Ben-David, CEO of N-trig. âہ"Customers using the new Latitude XT will find that the zero pressure touch combined with the accurate stylus changes the usability of tablet PCs. Once they try it, they wonâ€â"¢t want to go back.â€Â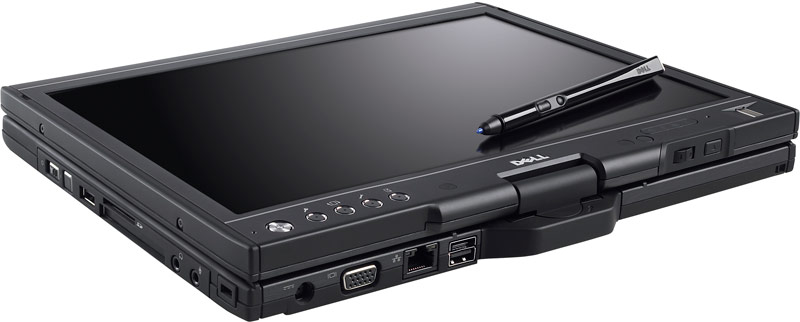 Latitude XT features:
* Optional media base for docking and optical media
* Full-size keyboard with dual pointing
* Up to 64 GB2 solid state drive; up to 120 GB2 hard drive
* Optional battery slice designed to provide up to 9.5 hours of battery life
* Intel Core 2 Solo and Duo ULV processors
* ATI Radeon X1250 UMA integrated graphics
Advertisement