Battery life is getting better on most new laptops with double digits, or at least 8 hours, becoming the new standard to be judged for portables and netbooks. But what if your notebook only has 2-4 hours of battery life? We've rounded up a few tips to stretch your battery life and make it a bit easier to recharge when you need it.
First off is Aerofoil, which Netbooknews brought to our attention. This small program is great for extending the life of your battery and Netbooknews claims it can add an additional 25% to your battery life all by disabling battery draining Windows Aero effects automatically. After installing the small app and setting it up, anytime you unplug it will turn off the Windows Aero effects like transparency and Peek; which look good but drain your battery!
Second, Business Net has 5 tips to extend your battery's life.  Most of these are simple steps that make your battery better by exercising and taking care of your battery, all of which make for better battery life. Examples include keeping you notebook cool, not charging constantly and running your battery down and recharging it to full once or twice a month.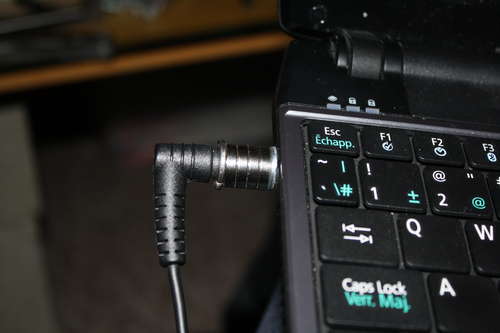 Finally, when you are recharging you don't want your day ruined because your cat thought the power cord was a toy and pulled your notebook to the floor in a sickening crash! Mac owners have long enjoyed the convenience of a MagSafe adapter that stays put with magnets but easily pulls away if needed but everyone else is left demagnetized. Thankfully LifeHacker found a great DIY Guide for a Magnetic Power Adapter on Instructables that will let anyone add a MagSafe power adapter, that looks good, with just a little bit of work.
Remember, take care of your battery and it will take care of you!
Advertisement