I bought a Nikon D300 just after Thanksgiving and was initially overjoyed with its performance. But my excitement waned after bringing it out to CES 2008 and experiencing false low battery warnings and other issues that rendered the camera useless.
The D300 was something I'd been salivating over for months and just couldn't wait to get my hands on. I hunted down what seemed to be the last D300 in San Francisco and tacked on an 18-200mm VR lens and a SB-800 speedlight for a grand total of $3,000. This is quite a large investment, but well worth it considering photography is my passion and that I plan on using it for years to come.
As of 3/12/08 I haven't had any battery-related problems with my second Nikon D300, but I haven't really put it through its paces yet. I have less than 1,500 shutter releases on it and am still hoping for the best. As you can see in the comments below and at popular photog forums, a lot of other D300 users are experience the same dreadful problems.
I was impressed with the performance of the D300 and thought I'd found the camera of my dreams. The pictures were stunning and low-light performance was amazing. Some of my family members are professional commercial photographers and they urged me to switch to Canon when I told them I was buying a new DSLR. I didn't listen and when I showed them the D300 and some shots I took with it they were very impressed.
But then I brought the rig to CES 2008 and the camera started flipping out. On the first day at the show my D300 started displaying a low-battery warning after I shot a few frames. I swapped out the battery pack, assuming I'd accidentally drained the battery some how. After a few more shots I got the low-battery warning again. I pulled the battery out, put it back in and my lcd showed that I had a full battery. I was able to take 20 to 30 shots without incident, but then the battery warning came back…again and again and again.
check out the video for a taste of the D300 false dead battery warning
I brought my D300 to the Nikon booth at CES and the product guys were pretty much dumbfounded. They said they hadn't seen or heard of this issue before. They played with my D300 for a while and determined it was definitely not within specs.They recommended I bring the D300 back to where I purchased it, but that didn't do me a whole lot of good while at the show.
I carried the D300 with me for the rest of the week at CES, eeking out a few shots here and there. The D300 continued to seize constantly and I had to retake shot after shot, looking like a complete moron as I had to ask people to stay still for another try.
The week after CES I had to bring the D300 to MacWorld. The D300 acted up again and I stopped by the Nikon booth again to see if this batch of Nikon guys had any advice. They didn't, but one of the Nikon employees was extremely helpful and assured me he'd have my D300 replaced if my local retailer couldn't help me.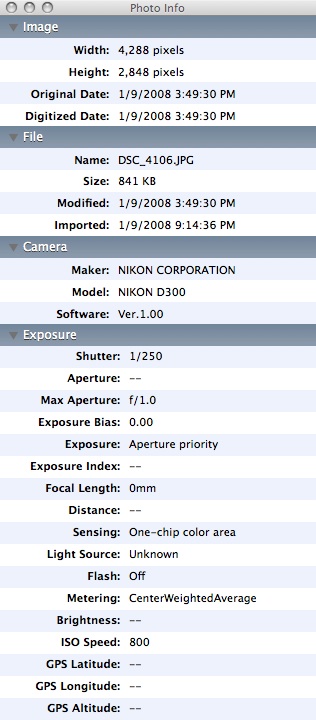 The D300 also started having focusing and metering problems on top of the false low-battery warnings. Auto-focus would work sporadically and the camera started metering at "F 0." The A f-stop of zero is physically impossible, yet my D300 seems to think it's perfectly acceptable to release the shutter with this kind of reading. When I took some of the photos, the meter read F 0, but when I imported the photos the EXIF apperture data was blank.The result was several underexposed and/or out of focus shots.
I called the Ritz Ultra store where I purchased the D300, and was assured they'd replace it as soon as they received the next shipment of D300s.It's been a week and I still haven't heard back, and for all I know it might be another week or more before it's replaced.
I'm pretty loyal to the Nikon brand. My dad taught me the basics of photography on his Nikon SLR. I used a F100 for years and 'went digital' when Nikon launched the D70 four years ago.
Here's a shot of an ultramobile PC with the whacked out exposure. A quick on/off cycle let me take a properly exposed photo of the same device: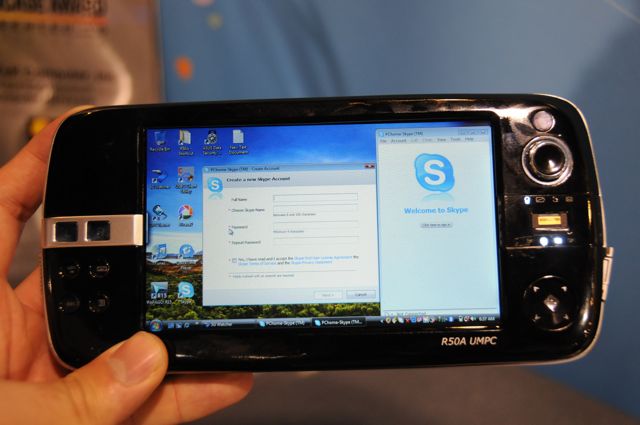 I was an early adopter of the D70, and about a year and a half after using it I experienced the Blinking Green Light of Death, which was caused by a faulty circuit board. Nikon repaired it for free and I wrote it off a mishap, since this was my first real problem with a Nikon product.
This is the service bulletin Nikon issued when for the D70:
It has come to our attention that select electrical components in a limited number of D70 cameras may, in some instances, fail affecting camera performance and/or operability.

While only a limited number of D70 cameras are affected by this advisory, if (1) when a memory card is inserted, your D70's memory card access lamp blinks, locking camera operations and preventing operation, or (2) with no memory card inserted, the camera will not turn on despite the battery indicator showing a fully charged battery, Nikon Inc. will service it free of charge.
After browsing several photo forums, it's apparent that there are A LOT of other D300 users experiencing similar issues. Some people are pointing to poor battery contacts, others are blaming faulty contacts between the body and certain lenses. Other D300 users are having mixed results with using solutions to clean contacts, scraping the contacts or avoiding using certain lenses, especially Nikon's 70-200mm zoom lens.
All of the above solutions are unacceptable. The D300 was named Camera of the Year by Popular Photography and is marketed as a professional camera. A professional camera needs to be reliable. A professional camera needs to WORK. A professional camera needs to have flaws like this figured out BEFORE it ships. When customers spend $1,800 on a camera body they shouldn't have to figure out how to shim the battery in place, or otherwise coax it into working.
I've talked to a lot of other geeks and photographers about my D300. Some people think I'm just unlucky and got a lemon, but there are just too many other D300 owners complaining about similar issues. So far I've found dozens of people online with similar problems. I think it's time Nikon recognizes this as a serious quality control issue and do something about it as soon as possible. If that means halting shipments, issuing a service bulletin or recalling some or all of the D300s that have shipped, so be it.
This was my biggest gadget purchase in a long time, and my biggest disappointment. I'm sure someone at Ritz and/or Nikon will replace my Nikon, but I've never felt so crappy about a big gadget purchase before. I just paid off my $3,000 AMEX bill for the camera and all I have to show for it is a camera that doesn't work and a bunch of sh***y photos from the biggest computer trade shows I go to all year. Thanks a lot Nikon.
update: This issue reminded me of my F100 and film gear, which I haven't touched for a while. I pulled it out of the closet, but I won't be shooting with it either, as my SB-28 speedlight seems to have died while in storage. Fresh batteries and cleaning did nothing to revive it. I'm seriously starting to lose faith in Nikon…Is this why all the pro-Canon guys sneer at my Nikon gear at conferences???
update 2: I pickd up my new D300 from the Ritz Ultra store in downtown San Francisco. The Ritz employee was very sympathetic and the exchange was hassle free. She didn't even bother me for a receipt. I've shot a couple of dozen frames on the new D300 and it's working like a charm. It'll take a couple of months of flawless operation for me to be convinced I aven't received another problem D300.
update 3: As of 3/12/08 I haven't had any battery-related problems with my second Nikon D300, but I haven't really put it through its paces yet. I have less than 1,500 shutter releases on it and am still hoping for the best. As you can see in the comments below and at popular photog forums, a lot of other D300 users are experience the same dreadful problems.
Advertisement