3M just announced three new models in their Pocket-Projector line. These are tiny video projectors that are not much larger than the average person's hand. The new models are the 3M MP160, MP180, and the Shoot 'n Share.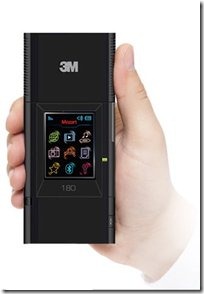 The larger of the two pico-projectors is the 3M MP180 Pocket Projector, which is larger than its predecessor in both size and weight. In fact it is nearly twice the weight. With some added functionality, this is possibly going to be a welcome trade-off to users.
The model comes with 30 lumens, which may seem dim when compared with typical projectors, but the comparison is not applicable because of the unique technology in pico-projectors. Instead of a traditional bulb, it uses LEDs, which cast a brighter and more focused light. It has VGA resolution (640×480). The built-in media player will hold up to 4GB of content allowing users to play media directly from the projector itself. The MP180 has Wi-Fi and Bluetooth for wireless connectivity. And it comes with a touch display and a web browser. For a hands on and more pictures, visit 3M's web site.
The MP160 Pocket Projector is smaller than the MP180 and does not have the media player or the wireless connectivity. Check out 3M's hands on view at their site. The MP180 will be $399 while the MP160 will be $50 less.
The Shoot 'n Share is not just a projector. It is a video camera with a pico-projector built-in. There is no information yet about the quality of the video this camera will record or how much storage it has. In fact the only thing we know is it is a camera with a projector and it will sell for $299. All three of these will be available in October.
If you want to see 3M's projectors in actions, check out the video below. They don't yet have videos for the new models, but you can get an idea of what they will look like from this video of the previous MP150 model.
https://www.youtube.com/3MPocketProjector#p/a/u/0/CtjfNulEePk
Source: Pico-projector Info. For general information on pico-projectors, check out Pico-projector Info's great Introduction site which explains the technology.
Advertisement