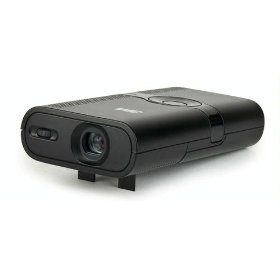 The idea of a projector that can fit in your pocket, provide a 60″ screen for business presentations and then connect to your iPhone for a movie later that night has been bouncing around the technology arena for many years.
But, the earliest portable projectors where hardly pocketable and any that came close where too expensive for anything but showing off (and the iPhone was but a rumor). Now thanks to technological advances, mass market appeal and a bit of magic you can pick up a tiny pico projector for under $300.
Granted, the resolution of Pico projectors is in the range of 480×320 – 800×600 and battery life may only get you through a single romantic comedy; but for a device that fits in your pocket that's not too bad.
The Editors at Retrevo recently took a look at 6 pico projectors worth checking out — some of them even have a dual use as a camera or a phone.
Nikon CoolPix S1000PJ – 12.1 MP camera with built in projector – $429
Optomo PK102 – DLP powered, SVGA display LED lightsource with 20,000 hours – $250
3M MPro 120 – VGA image up to 50″, 12 lumens brightness and up to 4 hour battery life – $300
AAXA Technologies P2 Projector – 800×600, 33 lumens, LCos powered and 35 minute battery life (70 or 180 minute batteries also available) – $350
Samsung SPH-W7900 Smartphone – Pico Projector built right into a smartphone; but it's only available in South Korea – $500
Microvisions Showwx – 848×480 widescreen image but no product to buy yet.
WowWee Cinemin Swivel – 480×320 DLP powered, iPhone connectivity and a 2 hour battery life – $299
Retrevo's Pico Projector Roundup has more info on each of these projectors including images, videos and links to purchase.
All of these super small and portable projectors are cool but my favorites, based on appearance and specs, are the WowWee Cinemin Swivel for its swivel feature and the 3M MPro120 for the its claimed 4 hour battery life.
Here's a demonstration of the WowWee Cinemin Swivel in action.
Advertisement