While we were in Vegas covering CES this month connectivity was an issue. While the connections inside the blogger lounge were in general pretty fast, but the room filled up quicker than the Speck booth – and they had an open bar. Once you were in the hallway the press and blogger connections failed to work and a trip back to the room was out of the question since even in the Venetian this would be a 30 minute adventure.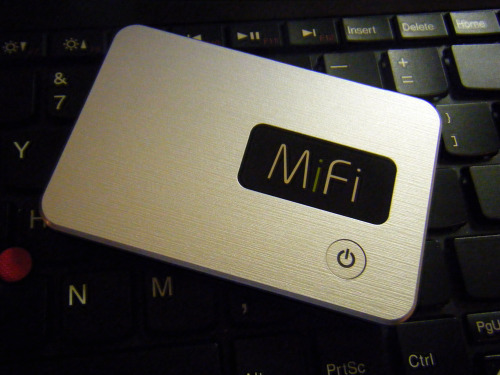 I started the trip using PDAnet for my Droid, but was very excited to get a review MiFi unit from Novatel late the first day so that I could get connected without any cables or fussing around with software.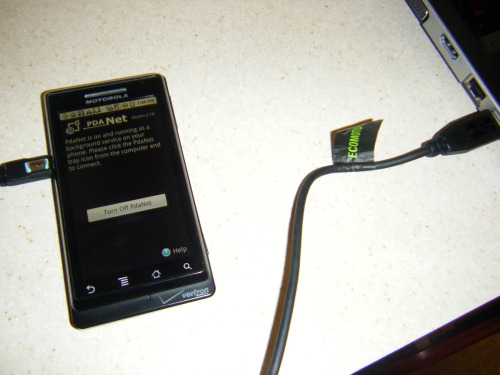 With a freshly charged MiFi, and an Eye-Fi card on loan from Xavier, I set out to cover day two of CES and immediately recognized the benefits of the MiFi unit over tethering to my phone. Leaving the Venetian I hopped onto a 10-15 minute shuttle ride over to the big show and while I wouldn't have gone through the trouble of connecting my Droid for such as short period I was able to connect my HP Mini 1000 to the MiFi quickly and knock out a post I had leftover from the evening before. Tethering my Droid wouldn't have been practical in this quick cramped situation.
The MiFi unit also came in incredibly handy throughout the show as I had it turned on in the pocket of my ScotteVest for practically instant on connectivity wherever I ended up; be that on the floor, a corner of the USPS booth or camped out at RunCore's booth in the Netbook Zone.
When the entire Notebooks.com and GottaBeMobile team covered the Intel keynote the four of us each connected a computer to the MiFi unit as well as Xavier's Eye-Fi card which he used to provide the rest of us with almost instantaneous access to his photos that were uploaded to his Flickr account. This situation highlights one of the biggest benefits of a MiFi card over any tethering solution; the ability to share a connection and do so without any extra installation.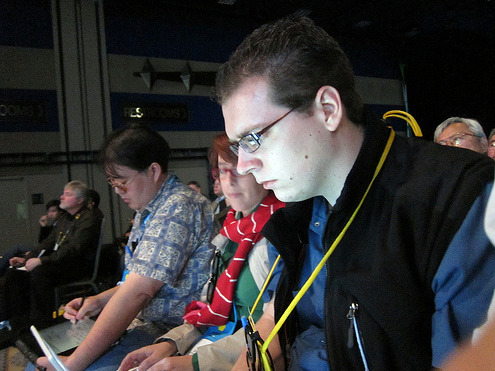 Connected with MiFi wishing for a backlit keyboard!
If I wanted to share my PDAnet tethered Droid with the rest of the group I would have had to pull some workarounds in Windows to share over the built in WiFi or lend the connection to one person at a time and even then they would have had to install the software and USB drivers and hope it worked. Because the MiFi shares over WiFi the only setup is typing in the network password and clicking connect.
The ability to upload pictures from anywhere with a Eye-Fi card and a MiFi was another positive at the show after a helpful Eye-Fi rep showed me how to fix a user error that prevented the images from uploading when the notebook was on one connection and the Eye-Fi card on the MiFi. This connectivity is one of the things I will miss most as I pack up the MiFi unit and return it to Novatel tomorrow. The fact that combining a MiFi and the new Eye-Fi Pro X2 means you can keep taking photos without ever running out of room may be enough to cause my wife, who is a shutterbug, before I do!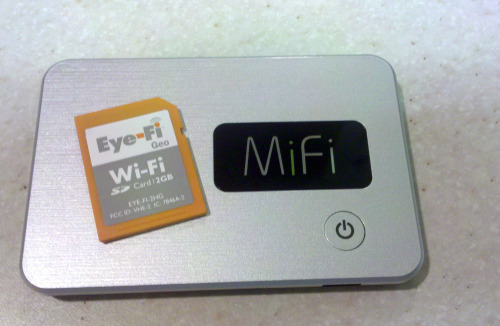 As far as speed goes during the comparison I tested both PDAnet and the MiFi several times; both moving and standing still and the speeds were very close no matter which device I used. That said the MiFi was faster by about 200 Kb/s up and down while in a moving vehicle that was traveling between 35 and 45 mph. It is likely that this difference was due to small changes in location and networks rather than a clear advantage but nonetheless the differences existed in my non-scientific tests.
Really the only trouble I had during my test was uploading large files to YouTube, but I wouldn't have even attempted that when tethered and it's possible that part of that was due to network and YouTube saturation at CES.
If you couldn't already tell, I am sold on the MiFi. Not only is it dead simple to use, easy to share and tiny but it just works. Not once during my use did I run into an issue like you see below that popped up with PDAnet on a few occasions. The MiFi device is one of the simplest ways to connect to the internet on the go and offers several advantages over traditional tethering such as the ability to share and Eye-Fi connectivity.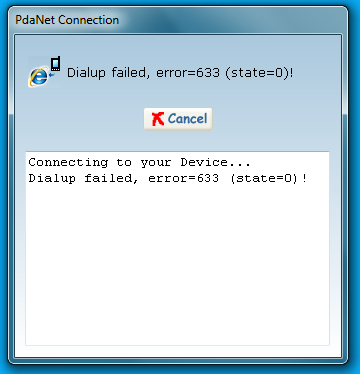 You can currently get a MiFi device from Sprint or Verizon for practically nothing if purchased on Amazon with a contract. If you don't want to pay between $40 and $60 a month you can pick up a Pay-As-You-Go MiFi device and use it only when you need it which may fit those of us like myself who travel less frequently better than adding another monthly data fee.
For the time being I haven't decided to pick up a MiFi, only because while I continue to have a day job that puts me behind a desk 9 hours a day without much travel I don't connect as much on the go to justify purchasing one. If that situation changes, or Verizon lets you add a MiFi to the same pool of data my Droid uses, I will be much more likely to pick one up.
Bottom Line: If you need mobile access from Verizon or Sprint a MiFi is the device for you — it does so much more than the USB cards they both sell and when purchased from Amazon a MiFi is as about as cheap as you can get.
Here's what the MiFI looks like when it's up and running.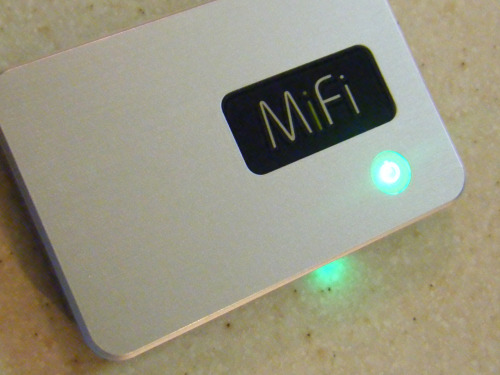 Advertisement