Apple's finally explained how early iPhone buyers can receive their $100 store credit. Follow these four easy steps and you'll get a store credit voucher that's instantly redeemable online, at an Apple Store or over the phone.
Apple's offering the credit to anyone who purchased an iPhone between June 29 and August 22. Those who purchased an iPhone after that date are protected by Apple's price guarantee. Both 4GB iPhone and 8GB iPhone users will get the $100 store credit. You must apply for your $100 credit before November 30 and your iPhone must be activated.
1) Go to https://www.apple.com/iphone/storecredit/ and click on "Get Started."
2) Enter your phone number and your iPhone's serial number. The Serial number is in tiny print on the back of our iPhone. It's also located under the Settings tab. From your home screen navigate to Settings> General>About. The Serial number will be at the bottom of this screen.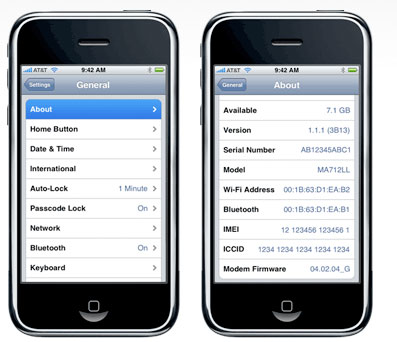 3) A text message will be sent to your iPhone automatically. Wait to recive your access code, enter the access code and hit continue.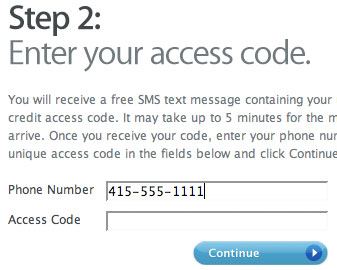 4) A unique store credit will be generated for $100. You may print this out if you want to use it in store.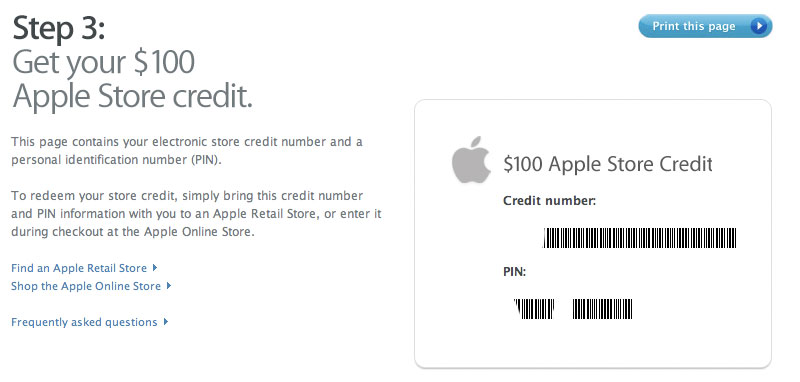 That's it! I completed the process in less than two minutes and am glad Apple made the process so simple. I think it's great that Steve Jobs and co. are crediting us early adopters, but it's also a brilliant marketing strategy. This whole process will probably end up making Apple a lot of money. Apple's going to get a flood of its most loyal and affluent customers back in the store, where few of them will spend less than $100. This is a marketing person's dream mailing list.
I'll probably end up getting another extra battery for my MacBook Pro, but I'm sure something else and more expensive will catch my eye.
Advertisement