With the iPad Pro comes an entirely new form factor, and a new opportunity to replace your laptop with this iOS-powered tablet. If you're stuck on what keyboard to buy, we've put together a list to help you figure out the best iPad Pro keyboard for your needs.
Buying a keyboard to use with an iPad is nothing new. Even when the first iPad was released, nearly six years ago, Apple came out with a first-party keyboard dock. But most iPad keyboards, unless you went and snagged a full-sized Bluetooth model, have been small and cramped, with keys jammed too close together in order to stay within the footprint of the iPad itself.
The iPad Pro, however, has changed all of that. For the first time, you can buy keyboards that are more than just the bottom half of a cheap old netbook. The tablet's 12.9-inch display (and correspondingly larger footprint) allow for a full-sized keyboard, meaning that you can type more quickly and more accurately, without having to take the time to train on how a smaller keyboard feels.
Another big change with the iPad Pro is the addition of a new connector. Apple's Smart Connector is a set of three pins along the left-hand side of the tablet (or bottom, if you've got it in landscape mode with the home button to your right) that provide both power and data. It's another iPad Pro innovation that is reminiscent of technology developed by Microsoft for its Surface line of PCs. This Smart Connector allows Apple and third-party manufacturers to develop peripherals that don't require batteries or Bluetooth – so a keyboard that used the Smart Connector, for instance, would instantly connect and never run out of batteries.
So far, only two keyboards have been released that take advantage of the new connector: the Apple Smart Keyboard, and the Logitech CREATE Backlit Keyboard for iPad Pro.
The Best iPad Pro Keyboard
Apple Smart Keyboard
Perhaps a controversial choice, the Apple Smart Keyboard has premiered to decidedly mixed reviews. Like many great gadgets, it seems to occupy a love-it-or-hate-it portion of the technosphere. Designed in conjunction with the iPad Pro, the Apple Smart Keyboard employs some of the new dome switches developed for Apple's 12-inch Retina MacBook.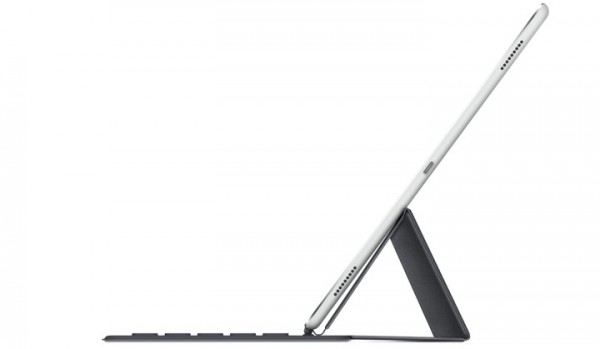 Rather than using the butterfly switches from the MacBook, however, Apple's Smart Keyboard relies solely on the nylon cover fabric and dome switches for bouncing the key back up once pressed. Apple also engineered special air ducts to prevent the internal air pressure from building up (which would then prevent you from being able to press a key down).
The Smart Keyboard also takes advantage of the iPad Pro's new Smart Connector, so unlike Bluetooth keyboards, there's no pairing or batteries to worry about – you just pop the iPad Pro onto the keyboard, and you're ready to go.
It's not all peaches and cream, however; I mentioned that this would be a controversial choice for a good reason. While the Apple Smart Keyboard is exceptionally thin, and pretty light, there were compromises made to keep it so portable. Key travel (the distance between an unpressed key and a key you fully depress) is extremely short – so short that it's a primary complaint of many people who try it out. There's also no backlighting, and Apple could have stood to add function keys for copy / paste or screen brightness. Finally, it's also expensive: Apple charges $169 for the pleasure of buying one.
Despite all these drawbacks, it does work pretty much flawlessly; it didn't take long for me to become accustomed to the new depth of key travel. And compared to the other options, it manages to be exceedingly light – its sheer portability is a large part of why it comes in first.
The Best Keyboard for the iPad Pro, Runner-Up
Logitech CREATE Backlit Keyboard Case with Smart Connector
Apple actually partnered with Logitech ahead of the iPad Pro's release date, giving them time to a create a keyboard peripheral that would be ready when the enormous tablet launched to the public. Apple helped to design the keyboard, and you'll notice that it looks largely like the keyboard from a traditional MacBook Air/Pro. That keyboard was the Logitech CREATE, and it's really, really good.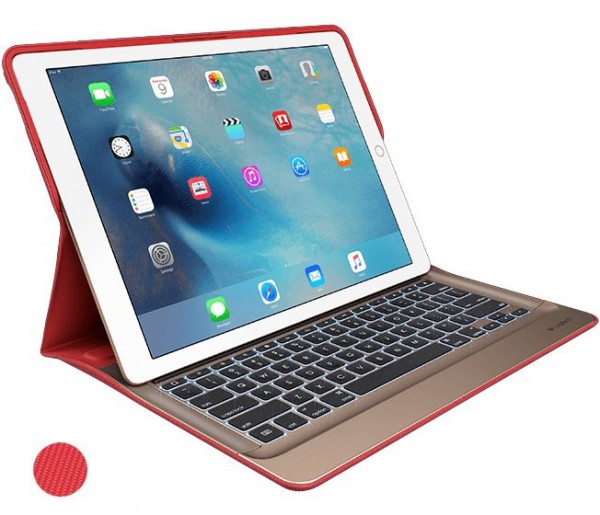 The Logitech CREATE is more akin to traditional laptop keyboards than the Apple Smart Keyboard. It has better travel, and the keys are backlit. Logitech also put in a row of function keys to modify things like the iPad screen brightness and system volume. These keys are useful when using the iPad with a keyboard, as it prevents you from having to lift your arms to the screen, which is uncomfortable.
The CREATE keyboard is built into a case made of plastic and a heavy duty fabric. It's a very pretty case, and it seems functional and sturdy. Unlike the Apple Smart Keyboard, however, it alone is three times the thickness of the iPad Pro (the Smart Keyboard is slightly thinner than the iPad). It's also heavier, at 725g vs 550g – but it's worth pointing out that the Logitech keyboard includes a back cover, whereas the Apple keyboard does not.
If you're willing to sacrifice portability, you will get a superior typing experience. That's a fact. It's also a more affordable typing experience, as Logitech is only charging  $149.99 for the CREATE. Given how much of the iPad Pro's appeal is tied up into how thin and light it is, considering it's size, it wasn't a tradeoff I wanted to make – but the two are close enough that if you can't decide between them, it's worth going to check each one out in person.
The Best Bluetooth Keyboard for the iPad Pro
Microsoft Universal Foldable Keyboard
With the Surface line of devices, Microsoft has finally shown the world at large that it's capable of exceptionally good industrial design – the Surfaces are elegant, modern devices with a design language that's all their own. But if you were paying attention, you noticed that Microsoft put out really good hardware on a regular basis – it was in the accessories line of the business. Microsoft's keyboards, and to a lesser extent, their mice, have been high quality options for years, now; recently they've turned their focus over to making mobile-oriented peripherals.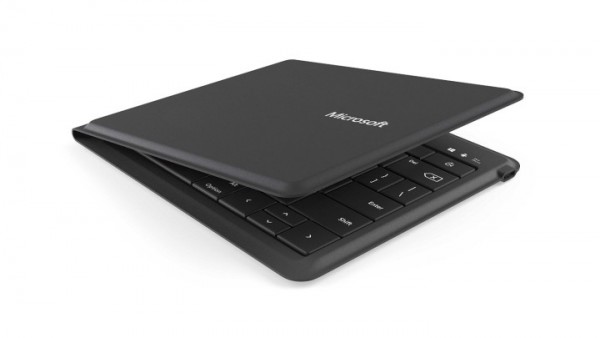 The Universal Foldable Keyboard is different from most mobile keyboards you'll find, with a hint in the name – this keyboard folds completely in half, letting you tuck it away into the smallest pockets of your backpack or bag. It manages to get most of a full-sized keyboard crammed into a small space, by minimizing the distance between keys (a trick they use on some of their other products). It's only 0.2in thick thanks to its built-in rechargeable battery, and while it doesn't have backlighting, it does offer one really neat trick – when you open the keyboard, it powers on and connects to your paired mobile device. Done typing? Just fold it closed and the device powers down. Pretty clever stuff. Microsoft lists an MSRP of $99.99 for the Universal Foldable Keyboard, but you can find it on Amazon for nearly half that at just $66.
The Best Bluetooth Keyboard for the iPad Pro, Runners-up
Logitech Bluetooth Easy-Switch Keyboard K811
Logitech's Bluetooth Easy-Switch keyboard, the K811, might not have been made with the iPad Pro in mind, but it pairs with the tablet extremely well. Measuring right at twelve inches wide, just like the iPad Pro in landscape orientation, the K811 stands out from the crowd in a number of ways. First of all, like the Logitech CREATE, it features a fully backlit keyboard, making it only the second offering to do so out of our entire roundup.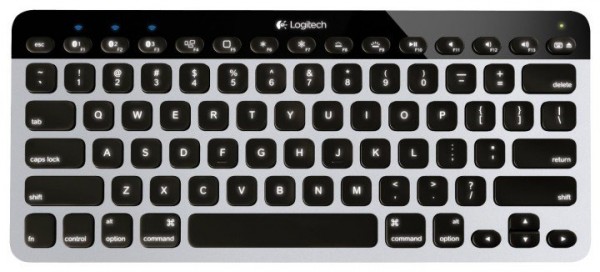 The other unusual feature it possesses is the ability to switch between devices with the flick of a switch. Traditionally, using the same Bluetooth peripheral across multiple devices is an exercise in frustration – every time you want to switch, you have to make it enter pairing mode, enter the Bluetooth menu in your device settings, and tap on the device to repair it. With Logitech's K811, all you have to do is hit a button. You can have it paired with up to three different devices at the same time: so you could pair it with your iPhone, your iPad Pro, and your MacBook, and easily switch between them as needed.
Logitech clad the K811 in aluminum, so it doesn't look out of place next to any of Apple's devices, and both Mac OS X and iOS specific function keys let you change the brightness / volume / etc. without having to enter your settings menus. A rechargeable battery lets you run for weeks without recharging, though if you need to, you can charge and type on it at the same time. Logitech sells the Bluetooth Easy-Switch Keyboard K811 for $99.99, but you can find it on Amazon for as low as $84.
Microsoft Wedge Mobile Keyboard
Microsoft makes another really well engineered mobile keyboard, but this one is quite a bit more, well, normal, especially compared to the foldable one above. Called the Wedge Mobile Keyboard, this device packs keys really closely together to maximize the keyboard's size within a given footprint.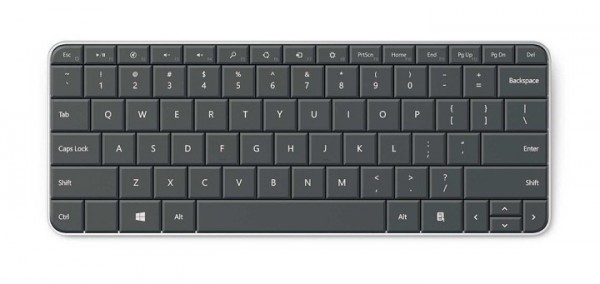 Its wedge shape comes from the AAA batteries mounted below the keyboard, kind of like Apple's last-generation wireless keyboards for their Macs. A cover that fits on top to protect the keyboard when not in use can fold and become a stand for whatever mobile device you've paired the keyboard to.
While using removable batteries costs a bit of space and weight, you do have the option of replacing them if you run of juice while out and about. And what the keyboard as a whole loses in portability, it wins in price – right now you can score one of these keyboards for just $33 on Amazon. It may not have all of the cool features of the Apple Smart Keyboard or the Logitech CREATE, but it's also literally 20% of the price.
Advertisement