Adobe released the new Adobe Photoshop Lightroom 4, its popular and newly updated photo editing and organizing tool, in the Mac App Store.
They released their consumer focused Photoshop Elements and Premiere Elements at a nice $20 discount over the retail box price of those two apps, but this time around the Mac App Store version actually costs the same price you would pay if you bought it directly from Adobe. You can get the full version from Adobe for $99.99, a $5o discount, if you buy it along with Photoshop or for $149.99 by itself. That's the price you pay for the program from the Mac App Store.
You benefit getting it from the App Store because users can install it on more than two machines, the limit enforced if you buy it from Adobe. Lightroom will also soon come as part of the new Adobe Creative Cloud subscription service which gives access to all the Adobe tools.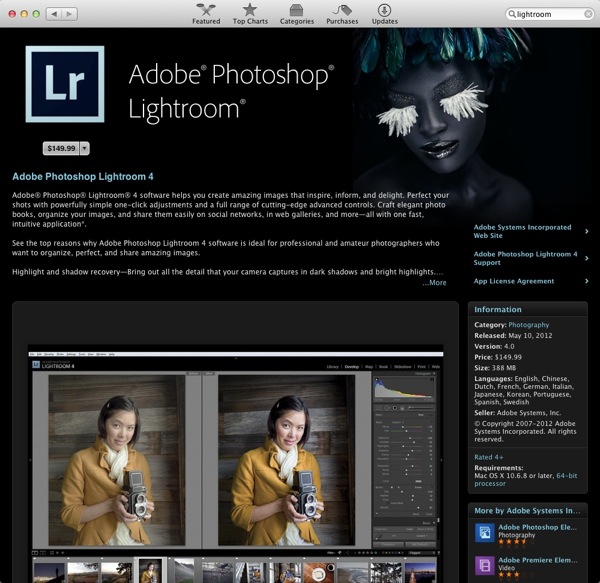 Lightroom provides powerful organization and post processing features. It's useful for serious photographers whether you're an enthusiast or a professional. I used the first three versions before I moved to Apple Aperture which costs half the price of Lightroom in the App store and allows you to install it on more than two machines.
The new features available in this update include the following:
Highlight and Shadow Recovery improvements
Photo Book creation from Blurb
Location base organization so you can search for photos take on your vacation
White balance brush lets you fix white balance of small parts of a photo
More editing brushes
Better video support
Video publishing in HD on Facebook, Flickr and smartphones, tablets or various TV formats
Soft-proofing so you can see what a printed image will look like when you use color management to match your printer and monitor
Better online sharing through Facebook and Flickr
See online comments from photo sites within Lightroom
Having used both, I recommend you check out Aperture before paying double for Lightroom. They're both great tools and most photographers today prefer Lightroom, but Aperture handles my needs perfectly at $70 less. If you're a serious creative professional or enthusiast, check out the new Creative Cloud service which will also includes Lightroom for $50/month or $30/month if you already own a registered copy of one of Adobe's professional tools.
Advertisement