Deleting Mac App Store apps is about to get even easier with Mac OS X 10.7, commonly known as OS X Lion, which is expected to arrive this summer. The latest version of OS X Lion was delivered to developers last Friday and included the ability to uninstall apps form your Mac just like you do on your iPhone.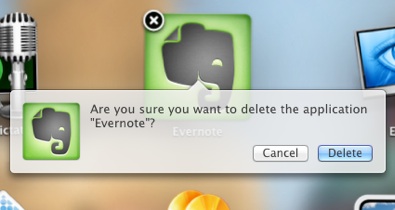 The new method of uninstalling Mac Apps is just like you would find on your iPhone, and is apparently called up when using the new App Launchpad which provides easy access to your Mac Apps, much like the pages on your iPhone or iPad.
According to AppleiGuide, the feature can be accessed by clicking and holding on an app until the small "X" appears in the upper left corner. Users can click to delete the app from their Mac. Unfortunately this will only work with apps purchased from the Mac App Store.
Mac OS X Lion, OS X 10.7, is expected to be announced at WWDC in June and we expect to see many new features that deliver a more OS-like user experience. This move to a more iPhone style user interface has left some users wary, but it is likely a move by Apple to create a more seamless user experience across devices. This would make MacBooks and MacBook Pros more appealing to the average iPhone owner that has been contemplating a switch to Mac.
Via MacRumors.
Advertisement