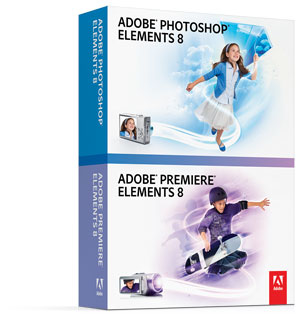 If you're looking for a last minute gift for the aspiring shutterbug in your life you should check out Adobe's Photoshop Elements & Premiere Elements. These applications are easier easier to use than Adobe's professional image and video editing software, but offer a lot more than the software that comes with most PCs and bundled with digital cameras.
Photoshop Elements and Premiere Elements are each available for $79.99 after a $20 rebate. Adobe offers a combo pack of both applications for $119.99 after a $30 rebate. All three of these editions are widely available at electronics retailers such as Best Buy. If you're a real procrastinator you can forget about running out to buy Elements and download it to your loved one's PC on Christmas morning directly from Adobe.


Adobe Photoshop Elements is a photo editing suite that can improve your images with just a couple of clicks. You can easily fix flaws, alter lighting or create slideshows. If you want to get your hands dirty you can perform many of the advanced edits as the pros can with Adobe Photoshop CS4.
Adobe Premiere Elements is a video editing application that's pretty easy to use and supports just about any digital video camera. You can quickly splice together your favorite clips from your holiday party, correct issues such as camera shake and export your finished video into a variety of formats for sharing.
I spent a lot of time using Photoshop Elements and Premiere Elements during my recent trip to India to organize and over 6,000 images and videos. I did some light editing while I was traveling and found the Elements organizer easy to navigate.
The applications have a lot to offer for the money and most computer users will be master them in a matter of hours. The pro versions of Photoshop and Premiere can take years to master, cost several times more and are overkill for most consumers.
Advertisement