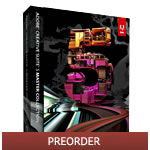 Adobe CS5 is now shipping to customers, and if you haven't already ordered an upgrade to the popular suite of design tools, you can download a free 30 day trial of CS5 right now. As an added bonus, free shipping has been extended through May 31, 2010 when you buy Adobe CS5 suites or Photoshop software — including student and teacher editions.
Adobe CS5 includes many amazing new tools and features for photographers, web designers, video producers and other creative professionals. You can see a complete listing of the new features in Adobe Creative Suite 5, with video, broken down in our closer look at Adobe CS5. You can see one of the new features in the video below.
If you're creative fire has been sparked you don't have to wait, you can start a free 30-day trial of Adobe CS5 suites and software. Currently you can download a free trial of the following Adobe Creative Suite tools.
Adobe CS5 Design Premium
Adobe Creative Suite 5 Master Collection
Adobe Acrobat 9 Pro
Adobe Photoshop CS5 Extended
Adobe Illustrator CS5
Adobe Dreamweaver CS5
Adobe Flash Professional CS5
Adobe Premier Pro CS5
Adobe After Effects CS5
Adobe InDesign CS5
Adobe Photoshop Lightroom 2 – Get $100 off today May 7 only!
Adobe Photoshop Elements 8
To get free shipping on Adobe CS5 packages and programs use coupon code 'adobecs5', and visit the page from one of the following links.
Adobe CS5 Packages
In addition to the current free shipping offer on Adobe CS5 with coupon code 'adobecs5',
Advertisement