The popular Adobe Photoshop Elements 10 and Premiere Elements 10 photo and video editing apps for consumers showed up in the Mac App Store this week for $79.99 each. That's the going upgrade retail price for each app when purchased individually either at stores or from Adobe. However, if you buy them both in the App Store it will cost you $10 more than the going rate for the bundled versions, which you can get for $150. They also show up on sale for less if you're patient and look around.
The apps offer a consumer-centric version of each app at a greatly reduced cost compared to the professional versions of Photoshop and Premiere. While the interface looks a little different, you actually get a lot of the great pro features in these reduced cost versions. Some of the new features in Photoshop Elements 10 include the following:
Paint up to 100 effects onto specific parts of an image
Facebook tagging
Automatically find photos with specific elements like your dog or car
Crop guides helps you compose shots
Library management will find duplicate or near duplicate shots (for when you fired off three strait shots in burst mode of the same thing)
New templates for printed projects
Upload to YouTube from organizer of videos shot on your camera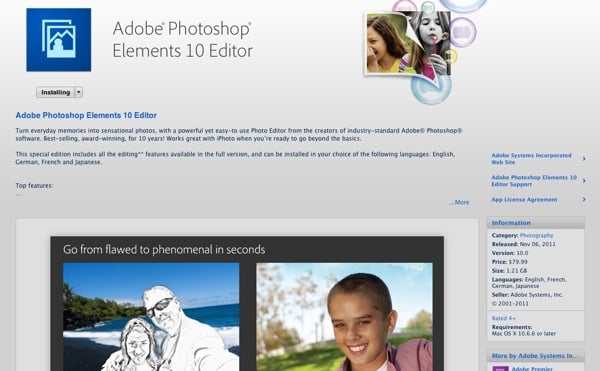 I've been a long time user of Photoshop and like having it in the app store for one reason. You can bypass the limitation of installing the app on only two machines. I have two MacBooks and recently added a Mac Mini for my church office. I put the full version of Photshop on the Mini and the MacBook Pro and use Elements on my Air, saving me either a couple hundred dollars for another license for the academic version of Photoshop (my wife teaches school), or having to run a cracked version of Photoshop on the third computer which usually opens you to threats of potentially unsafe software snuck into the crack.
Adobe Premiere Elements 10 doesn't excite me as much as Photoshop, since I prefer iMovie on the Mac. However, if you do like Premiere it too has some new features including the following:
Create interesting video slide shows with photos adding pan/zoom effects and music automatically
Better color correction/enhancement
HD quality on standard DVDs
Facebook and YouTube sharing instantly on import
Organizer finds photos faster based on objects and better tagging
Export AVCHD video
New templates
Smartsound on Mac only for more advanced sound editing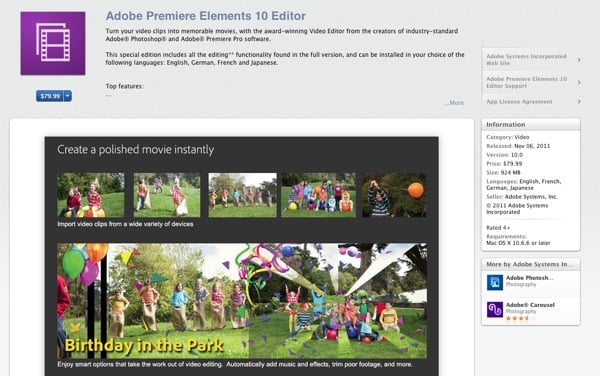 Adobe Photoshop Elements is in Mac App Store for $79.99 and Adobe Premiere Elements also for $79.99.
Advertisement