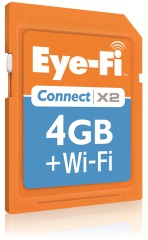 Today Eye-Fi announced their new desktop software called Eye-Fi Center which is now available for download for Eye-Fi users. The new software replaces your existing Eye-Fi Manager software and offers some new features.
You can now browse your pictures based on the date the picture was taken in the software's calendar view. You can also customize the settings for your Eye-Fi wireless SD card and tell it where to upload your photos. Photos are also tagged by location so now you can find them based on where they were taken on a map view. You can also keep track of where you uploaded a picture by selecting the picture to view where it was delivered. And now, you can drag and drop files to easily share with others via a large number of photo storage or social networking sites.
You can see the new software in action below.
Eye-Fi also announced that they are partnering with Starbucks to offer Hotspot Access service in 21,000 AT&T locations all across the country. You can upload photos via hotspots at Starbucks, Barnes & Noble and many hotels and restaurants. If you don't already have this service as part of your account, you can add it for only $14.99 per year. They have a map of available hotspots online.
Finally, Canon and Eye-Fi are partnering to offer special Eye-Fi functionality in their PowerShot and T2i cameras. Canon's Powershot SX210 IS, SD3500 and EOS Digital Rebel T2i cameras will now stay powered until uploading from Eye-Fi cards is finished. You can disable or enable the card's wireless functionality from these cameras' menus.
Advertisement