If you need a cup of coffee and a shot of ones and zeros, then you can hit your local Starbucks. Their previously announced free Wi-Fi for all is live now.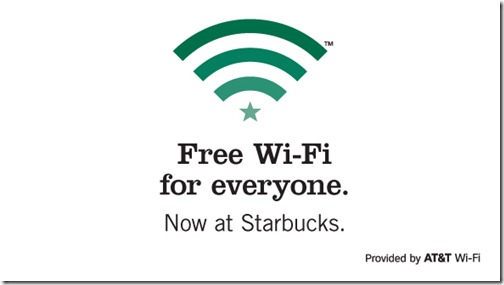 Here is the info from their site:
Enjoy great coffee and the Internet at your fingertips.

Starbucks is now offering free, one-click, unlimited Wi-Fi to all of its company-owned stores in the United States. That means Wi-Fi at Starbucks is now:

Free no Starbucks Card required
One-Click no username or password needed
Unlimited no 2-hour restriction

Visit us soon and login. It's as easy as opening a browser on your laptop or mobile device and clicking Connect. We want to provide you with a great digital experience to go with your great cup of coffee.
If you plan to use the Free WiFi, be sure to check out LifeHacker's post on How to Stay Safe on Public WiFi.
I enjoyed some free WiFi today as I awaited the conclusion of my oldest son's summer soccer camp in a neighboring town. I was able to take out my iPad and update a post to our site, harvest some crops on We Rule and check some email thanks to Starbucks and AT&T.
Advertisement