Last week, I flew on Virgin America's inaugural flight from SFO to SNA (Orange County) with a bunch of bloggers, Virgin America execs and celebrities. I've flown on Virgin America several times before, but this flight was definitely a lot more fun. I had the opportunity to chat about technology with Sir Richard Branson, MC Hammer, Virgin America CEO David Cush and a bunch of others.
On our way down, everyone was twittering, getting on IM and staying connected to the ground – Justine was even live streaming from the plane.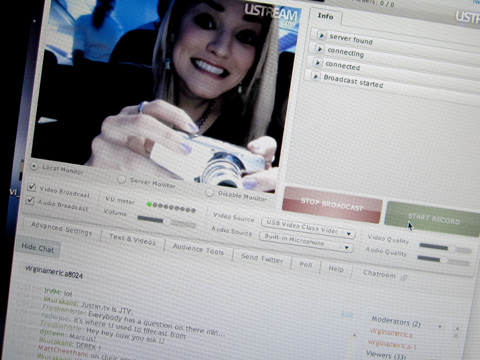 When we landed in SNA, we were greeted by a few hundred people on the tarmac, red-carpet style. Sir Richard Branson got off the plane with a bodyboard in hand and answered some our questions about tech and entertainment:
Virgin America's in-flight entertainment system, RED,  is pretty incredible compared to what you'll find on other domestic airlines. It features a touchscreen display on the back of every seat with access to dozens of movies, video games and music options. You can even order food and chat with other passengers.
More importantly, all of Virgin America's flights will have Wi-Fi by the end of the month. I tried their GoGo in-flight Internet service with my HP Mini 1000 on the way back home. It was more than fast enough to check email, browse the web and watch YouTube videos. The service costs between $8.99 and $14.99 per flight, depending on distance.
Virgin America flies to San Francisco, LA, New York, Washington D.C., Seattle, Las Vegas, San Diego, Boston and Orange County.
Advertisement