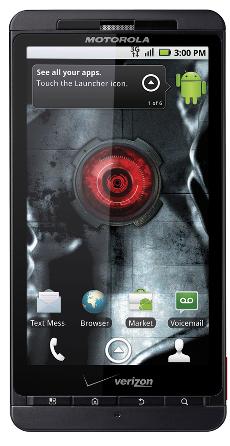 A member of AllDroid forums posted that he has successfully rooted the Droid X. Though the bootloader issue may be starting to clear up, a new problem has recently surfaced. Some Droid X users are currently experiencing spotty WiFi connections.
Droid X Bootloader
Soon after the Motorola Droid X's release, users reported that the phone was bricked when an attempt was made to put a different version of Android on the device. Motorola responded, claiming that the Droid X required an official Android release from Motorola to function properly.
Droid X users are beginning to follow the provided guide to root their device, and have reported that it works. Check out the AllDroid forum for the full description on how to root your Droid X. By doing so, different versions of Android, such as Froyo, could be loaded on the device. However, proceed at your own risk, as there is still the possibility of failure.
Droid X WiFi Issue
In other news, Droid X users are complaining about spotty WiFi performance. Symptoms of this issue include difficulty connecting to a WiFi router and poor network performance once the connection has been established. Thought no statements by Motorola or Verizon have been made, some users have discovered that changing the encryption from AES to TKIP improves WiFi performance. Others have noted that changing the router from 802.11n to 802.11g also helps the issue. Many had hoped that the latest software update would fix the WiFi issue, but it did not.
So far the only other issue reported on the 4.3-inch Motorola Droid X is the limited number of defective screens.
Advertisement