Building on the success of the HP Folio Ultrabook that straddles the consumer and professional line, HP has embraced the business Ultrabook with the new HP Elitebook Folio 9470m.
The HP EliteBook Folio 9470m is an attractive jump up from the new HP Elitebook 2170p's 11 inch display, without sacrificing the size and weight. The Elitebook Folio 9470m is 3.5 pounds.
Business travelers will appreciate the 18.95 mm thick frame, long battery life thanks to an optional slice battery and backlit keyboard, as well as the ability to dock the Elitebook Folio in the office to quickly connect to external monitors and accessories.
Unlike many ultraportables and ultrabooks, the Elitebook Folio includes a full complement of ports including, three USB 3.0 ports, DisplayPort, Ethernet and VGA. The EliteBook Folio also comes with an option for 3G and 4G LTE embedded connectivity.
The EliteBook Folio 9470m will use the latest Intel 3rd generation processors and is capable of handling up to 16GB of RAM. HP offers a variety of storage options including the ability to install a Flash Cache for faster boots and access to often used programs.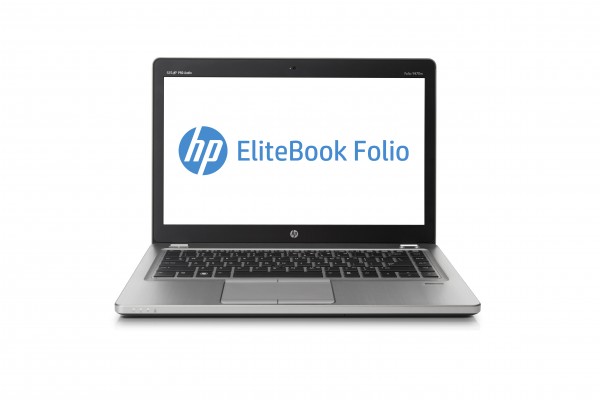 The Elitebook Folio won't be sold on the shelves of Best Buy when it is released in October, as it is aimed at companies who place a high value on the reliability of notebooks. Consumers who need a notebook that can last four years of college would be wise to look into the EliteBook Folio when it launches.
HP EliteBook Folio 9470m Specs
OS
Preinstalled

Genuine Windows 7 Professional 32
Genuine Windows 7 Professional 64
Genuine Windows 7 Home Premium 32
Genuine Windows 7 Home Premium 64
FreeDOS

Certified

SUSE Linux Enterprise Desktop

Display (size/res)
14.0-inch diagonal LED-backlit HD12 anti-glare (1366 x 768)
CPU
Third-generation Intel® CoreTM processors with Turbo Boost Technology
RAM
Up to 16GB
Graphics
Next-generation Intel® graphics
Storage
320/500 GB 7200 rpm Hard Drive; 500 GB 7200 rpm Self Encrypting Hard Drive; 180 GB SATA 6 Gb/s Solid State Drive; 256 GB SATA 6 Gb/s Self Encrypting Solid State Drive; 256 GB mSATA Solid State Drive
Optical Drive
None
Audio/Visual
SRS PRO AudioTM, integrated stereo speakers, integrated dual-microphone array, button for volume mute, function keys for volume up and down Optional: 720p HD webcam
Wireless
HP hs2350 HSPA+ Mobile Broadband Module; HP un2430 EV-DO/HSPA Mobile Broadband Module; HP lt2522 LTE/EV-DO Mobile Broadband Module (Only available in the US); HP lt2523 LTE/HSPA+ Mobile Broadband Module (Only available in the US); Intel® Centrino Advanced-N 6205 802.11a/b/g/n (2×2); Intel® Centrino Advanced-N 6235 802.11a/b/g/n (2×2) + BT Combo 4.0 HS; Atheros 802.11 a/b/g/n (2×2) + BT Combo 4.0 HS; Broadcom 802.11 b/g/n (1×1) + BT Combo 4.0 HS
Ports
2 USB 3.0 ports, 1 USB 3.0 charging port, 1 RJ-45 (Ethernet), 1 VGA,1 DisplayPort 1.1a port, 1 headphone/ microphone combo port, 1 power connector, 1 secondary battery connector, and 1 docking connector,  SD/MMC slot
Security
Standard: HP BIOS Protection,24 Microsoft Security Essentials, HP ProtectTools,21 Central Management for HP ProtectTools,22 TPM Embedded Security Chip 1.2, Pre-Boot Security, HP SpareKey (requires initial user setup), HP Disk Sanitizer,19 Drive Encryption for HP ProtectTools, Credential Manager for HP ProtectTools, Face Recognition for HP ProtectTools,1 File Sanitizer for HP ProtectTools19, Smart Card Reader, security lock slotOptional: Intel®Anti-TheftTechnology,20HPFingerprintSensor,Computrace,16 securitylock
Input
Full-sized spill-resistant keyboard with bottom case drain; HP DuraKeys; touchpad with scroll zone and gestures support, point stick, discrete buttons (Web browser, WLAN on/off, and mute)
Size
13.3 x9.09x.75 in
Weight
Starting at 3.6 lb (1.63 kg) (weight will vary by configuration)
Warranty
HP Services offers limited 1 or 3 year standard parts and labor limited warranty,18 pick-up or carry-in, and toll-free 7×24 hardware technical phone support; 1 year limited warranty on primary battery. On-site service and extended service contracts are also available.
Optional HP Care Pack Services13,18 are extended service contracts which go beyond your standard warranties.For more details visit: https://www.hp.com/go/lookuptool.
Advertisement