HP's Enviro Series batteries are now available for order. The batteries are produced by Boston-Power, a company that makes environmentally-friendly batteries that perform better over the long haul. This new line of batteries are are compatible with 18 HP notebooks, including most Pavilion and HDX series computers.
At the heart of the Enviro Series batteries are Boston-Power's Sonata Li-ion battery cells. Standard notebook batteries begin degrading almost immediately and come with just a one-year warranty. These new batteries are warranted for three years, which is longer than many users plan on using their notebooks.
The Enviro Series battery has a similar capacity to the standard Li-ion batteries that ship with HP notebooks, which means you won't get longer battery life right off the bat. But the Enviro Series batteries can withstand more charge/discharge cycles without losing capacity. After a few dozen cycles the Enviro Series battery will outpperform the standard batteries.
The Enviro Series battery is available for $149 at HP.com.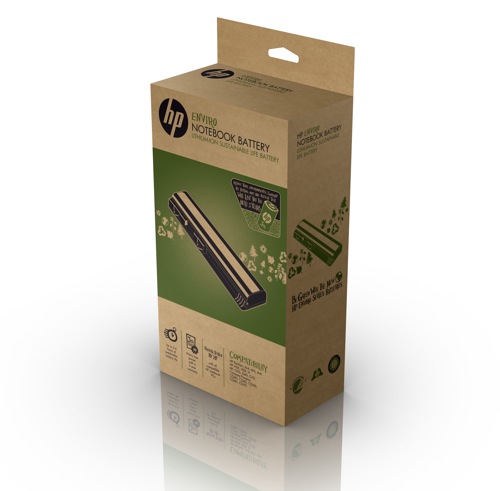 Here's the full press release from Boston-Power:
HP Enviro Series Program Batteries Based on Sonata Supported by Wide Range of Consumer Notebooks from World's No. 1 Provider of PCs
WESTBOROUGH, Mass. March 16, 2009 Boston-Power's longer lasting, Ecolabel-certified battery technology, Sonata, is available to consumer notebook PC customers starting today via HP.
New HP batteries based on Sonata technology are available as accessories for 18 existing notebook models representing approximately 70 percent of HP's consumer notebook PC portfolio.
In addition to first-of-its-kind environmental certifications, Sonata Li-ion battery cells deliver sustainable performance for three years three times longer than most other notebook computer batteries. In fact, HP is providing a three-year warranty on the batteries the first and only notebook computer provider in the industry to offer such a warranty.
Now available at www.hpshopping.com, the new HP battery based on Sonata is available as an accessory priced at $149.99. Later this month, the HP battery will be available as a point-of-sale option for consumers buying new HP notebooks at www.hpshopping.com. The battery's drop-in" form factor enables it to be used with existing computers including models in the HP Pavilion, HP HDX, Compaq Presario and HP G series. A complete list of compatible individual models is available at https://www.shopping.hp.com/store/product/product_detail/NH493AA%2523ABA. More information can also be found on Boston-Power's site at https://www.boston-power.com/enviro.
From the beginning, our goal has been to help notebook computer users benefit from optimal mobility with dependable, high-performance, environmentally sustainable batteries," said Boston-Power Founder and CEO Dr. Christina Lampe-Onnerud. HP's endorsement of Sonata is a great step forward in popularizing this battery technology."
HP delivers customers innovative products that respect our planet," said Jonathan Kaye, director of consumer notebooks marketing at HP. The Enviro Series program gives PC users longer lasting batteries that improve their computing experience while reducing the number of batteries that need to be recycled. That's a win for everyone."
Boston-Power is the first and only provider whose rechargeable Li-ion battery cells have earned the prestigious Nordic Ecolabel certification. The company has additionally earned a similar world's-first certification for its battery cells from the Chinese Environmental Protection Agency. Sonata's patent-pending, whole-system design makes it capable of benefiting a wide range of end-applications from consumer electronics to transportation. As a result, total cost of ownership benefits inherent in notebook computer batteries prove increasingly impressive in cases where even greater power is required.
About Boston-Power
Boston-Power, Inc. is an award-winning provider of next-generation Lithium-ion batteries. Designed to power a wide range of end-applications, its flagship offering, Sonata, is a notebook computer battery. Founded in 2005 and with more than 60 patents filed, Boston-Power is led by Founder and CEO Dr. Christina Lampe-Onnerud, an internationally recognized strategy and technology advisor to the top players in the portable power and energy storage industries. To date, the company has raised $125 million in venture funding from Foundation Asset Management, Oak Investment Partners, Venrock, GGV Capital and Gabriel Venture Partners. Boston-Power is headquartered in Westborough, Massachusetts and has Six Sigma-level mass manufacturing operations in Greater China.
Advertisement