Toshiba has just recently announced that they are giving their Dynadock U an upgrade. The new Dynadock Wireless U, as you might be able to guess, provides wireless connectivity between the Dyandock docking station and your notebook. Previously with the Dynadock U, a single USB cable would need to be plugged into the notebook in order for it to communicate with the docking station. The new model will eliminate even this single cable by leveraging the elusive wireless USB protocol. When you get home, just setting your laptop next to the dock will initiate the connection, with little to no intervention on your part, though you do need to have the included wireless USB dongle plugged in.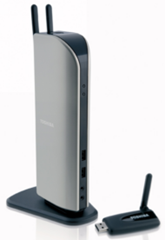 You might be wondering what the Dynadock actually does; it provides expanded ports and capabilities for your notebook which often lack the port options of a larger desktop computer. Aside from offering 6 additional USB ports, the Dynadock Wireless U also features VGA and DVI output for use with an additional monitor (up to 1680 x 1050, only one monitor can be connected to the dock at a time). One of the coolest features that the Dynadock Wireless U features (in my opinion) is the integrated sound card which offers up to 7.1 channel surround optical digital audio output for use with a high-end receiver and speaker system. Toshiba is also apparently on the ball in getting the docking system supported with Windows 7, offering beta drivers at the time of writing (before Windows 7 has been released).
The Dynadock Wireless U definitely provides some nice expansion to your limited laptop ports, but it also comes with a pretty hefty price. The wireless dock will run you $299 direct from Toshiba, though the price will hopefully drop to a more reasonable price in due time. The dock will also be available from other online retailers soon.
Advertisement