Apple pushed a new update to their iPhoto app, which brings some bug fixes, a fix for crashes on systems with many users and little else.
iPhoto lets users organize images, do simple edits and then share the images online or via print.
The update will fix a problem with using the program on a machine that includes more than one user account. iPhoto would crash on such systems. It also includes improvement to "overall stability" meaning minor bug fixes that affected few people.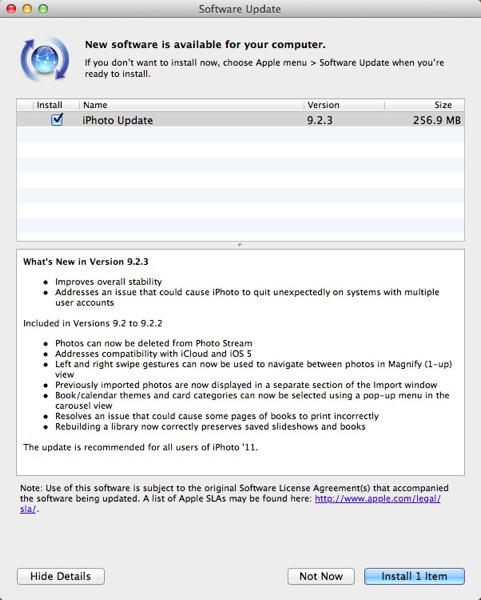 Apple recently pushed a major update of iPhoto to make it compatible with iOS 5.1 and iCloud. It also let users delete images from their iCloud Photostream.
The new iPhoto 9.2.3 will show up in Software Update on your Mac. Click on the Apple Menu and choose Software Update. Let it search for updates and then check the iPhoto update if it isn't already. Click on Install at the bottom.
If you haven't already, you might see an update for Safari and Thunderbolt on some Macs. These showed up in recent weeks.
The new beta version of Mac OS X 10.8 Mountain Lion will move this updating feature to the Mac App Store. If you installed Mountain Lion, open the Mac App Store and click on the Updates tab to find it.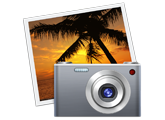 If you want, you can download the update directly from Apple's site. You might want to do this if you plan to apply the 200+MB update to more than one machine alleviating the need to download it many times.
See Apple's update release notes below:
About iPhoto 9.2.3

Improves overall stability
Addresses an issue that could cause iPhoto to quit unexpectedly on systems with multiple user accounts

Included in Versions 9.2 to 9.2.2

Photos can now be deleted from Photo Stream
Addresses compatibility with iCloud and iOS 5
Left and right swipe gestures can now be used to navigate between photos in Magnify (1-up) view
Previously imported photos are now displayed in a separate section of the Import window
Book/calendar themes and card categories can now be selected using a pop-up menu in the carousel view
Resolves an issue that could cause some pages of books to print incorrectly
Rebuilding a library now correctly preserves saved slideshows and books

The update is recommended for all users of iPhoto '11.
Advertisement