Apple updated their iLife '11 apps Mac OS X app GarageBand and iPhoto, bringing compatibility with iOS 5.1. Now you can delete photos from your Photo Stream in iPhoto.
Apple introduced a new iPad last week and along for the ride came a new version of iPhoto for the iPad and other iOS devices. So, its natural that you see some updates to the Mac versions of iLife because they interface with one another. You can start GarageBand projects on your iOS device and then finish them on the Mac version.
Now that you can delete photos from Photo Stream, the biggest improvement seen in iPhoto, people will be able to get some of the junk and clutter out of their Photo Stream. I hated taking screenshots for articles on my iPad or iPhone and having them in the Photo Stream even after I finished posting them. If you took 12 shots of one event but only liked a couple, you couldn't get rid of the other ten.
No more!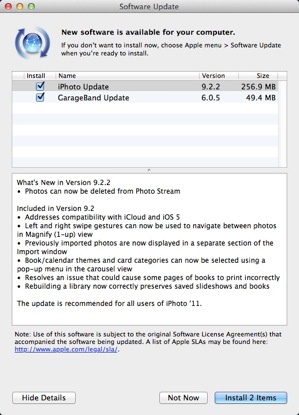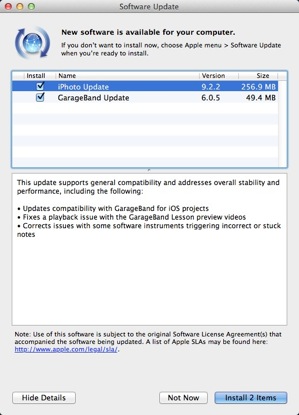 As always, the easiest way to download these updates is to run Software Update from your Mac. Click the Apple menu icon in the upper left corner of your screen.
Choose Software Update and let it search for the two updates.
Click on Install 2 Items in the lower right. You can also update by going to Apple's site and downloading them directly.
Find GarageBand and iPhoto there.
Other updates showed up earlier this week, so you may have more than just the two. Apple also updated iTunes to make it compatible with iOS 5.1.
You can get it from Apple too for both Mac and Windows and 64-bit Windows. If you run Windows you will also need the new iCloud Control Panel for Windows 1.1 which lets you sync iCloud content on a Windows PC.
Advertisement