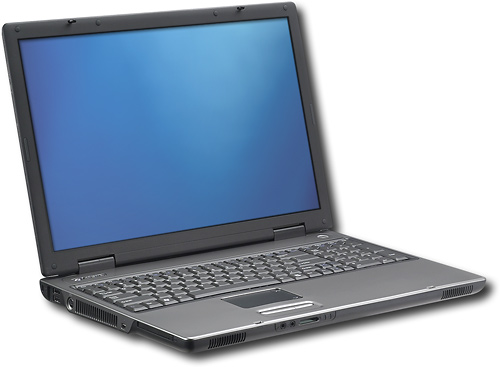 A good friend of mine has been looking for a 17-inch notebook to manage his home business and called me tonight from our local Best Buy to ask me if he should buy a Gateway MX8711 for $699.99.
He ran through the specs and I was impressed by all the features Gateway crammed into this budget-minded notebook. As of right now, itâ€â"¢s the cheapest 17-inch widescreen Vista Home Premium notebook weâ€â"¢ve seen.
The MX8711 is a retail version of the Gateway NX860S, with a 1.6GHz Intel Core Duo processor, 1GB of memory and 100GB hard drive. It weighs in at 7.4 pounds and includes a dual-layer DVD burner, FireWire port, 4 USB ports, S-video port and   4-in-1 media card reader.
The MX8711 is an excellent value for a basic home entertainment or home office notebook, but for $700 you donâ€â"¢t get a dedicated graphics card. 
Best Buy is selling this Gateway 17-incher for $150 below MSRP, or about $300 below what you can configure an NX860S for on Gatewayâ€â"¢s online store. I told my friend to jump on this deal and he brought one home.
Best Buyâ€â"¢s online store is sold out, so head down to your local Best Buy if you want to take advantage of this deal.
Product page on bestbuy.com
Flash Demo of Gateway MX8711
Advertisement