With tax time and Spring cleaning syncing up in March and April, you may find yourself in need of a great shredder. But you'll need more time even more than you need a great shredder, which is where the Swingline Stack and Shred 60X comes in.
There's no shortage of great shredders, but the Swingline Stack and Shred 60X stands out because you can put up to 60 sheets of paper into the shredder at once, close the lid and walk away while it shreds your sensitive documents.
My favorite part of this shredder is that I don't have to waste 15 minutes to shred a bunch of mail and old tax documents. I've used the Stack and Shred for the last month, and I like it as much as I liked the larger capacity Stack and Shred 100X (review).
For a home office, I like the smaller size of the Stack and Shred 60X, which fits under my desk in the corner of my office. The shredder is quiet enough that I can take a call while it keeps shredding the 60 sheets I stuffed in it. I try to avoid paper, but there are some things you can't escape. If you still get paper documents you need shredded the new, more affordable, Stack and Shred 60X is a good solution.
Stack and Shred Video Review
The video below is a review of the Stack and Shred 100X, which is very similar. The 60X handles 60 sheets at a time instead of 100, and features a manual load slot on the top for paper.
The new Stack and Shred models feature a slot to manually shred 5 sheets, credit cards and thick glossy paper. This is a nice touch, as it is annoying to open the shredder up again and again if you end up with multiple single sheets to shred.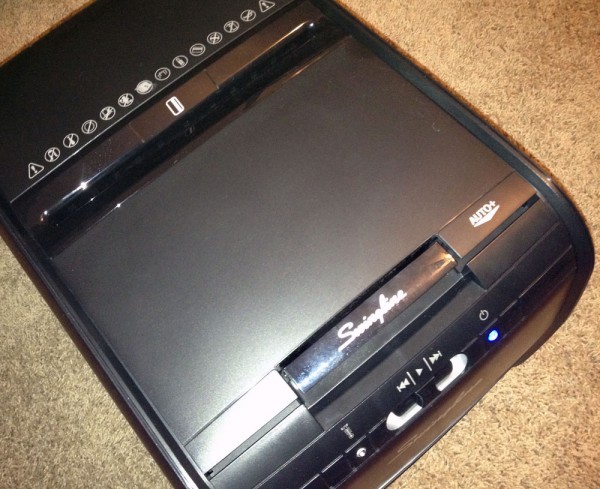 The shredder will cross-cut shred your paper document and provides "security level 3" credit card shredding. The Stack and Shred can handle paperclips or staples in any corner, so you don't need to organize your documents or remove staples and clips before you put them in the shredder. The Stack and Shred has a 4 gallon basket to hold lots of shredded paper.
The Stack and Shred 60X has a good feel and appears very durable. The last Swingline Stack and Shred I reviewed is sill in use at a local university where it shreds sheet after sheet on a daily basis.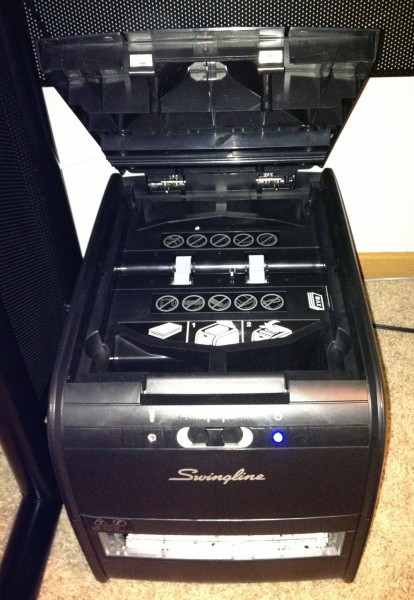 At $150, you might think about picking up a $15 shredder instead, but if you have a lot of shredding to do, and you value your time, you should consider the hands free Stack and Shred 60X.
I hate wasted time, and to me that includes spending 15 to 30 minutes shredding paper. With the Stack and Shred I can keep my office clean without putting work on hold.
Through April 9th, you can enter to win a Stack and Shred form Swingline on Facebook.
Advertisement