I have reviewed a number of iPad cases for Notebooks.com including the Apple brand case, a sleeve from Speck and one from Waterfield Designs. I hated the Apple case and really like the Speck and Waterfield Designs cases, but I am still looking for the perfect solution. I am not using any of those on a regular basis any longer. Instead, I have a combination of two cases, one designed for the iPad and the other is not.
Belkin Grip Vue Clear Case
The first case is a form fitting case that installs over the back and edges of the iPad to protect it. It is made of Thermoplastic Polyurethane. It feels like rubber and that is a good thing. It is a very smooth rubber but has a lot of grip for holding it and for keeping it from sliding around on a table or in your vehicle. I can prop it on something and type on it without it sliding around. Since I don't like the feel of the metal back of the iPad, this smooth grip-able surface feels good in your hands. It has openings for all the ports and buttons, except the sound and power buttons. Those have a thicker part of the rubber material that you can feel and push to engage the iPad's volume and power buttons even though they are not showing. There is no problem manipulating them with the case on the iPad.
The other great thing about the Belkin case is it adds so little bulk and weight to the iPad that I almost forget that it is on the iPad.
Below is a video of the case to show how it looks on the iPad and how to install it.
The Belkin Grip Vue retails for around $50 but you can get it for less than $40 at Amazon. Other places actually have it cheaper but I cannot recommend those sites since I have no experience with them.
HP Mini 10.2-inch Black Mini Sleeve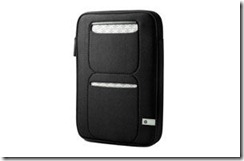 While the Belkin case above does a great job of protecting the sides and back of the iPad, you need something to protect the screen. You could use a screen protector like the one I reviewed from Speck. It works great. But I prefer to have my screen uncovered when I use it. So to protect the screen as I carry it around I found a case at my local Staples store. It is actually designed to be used with the HP Mini netbook, but it is the perfect size for the iPad and has three pockets on the outside for accessories like ear buds, a screen cleaning cloth and my Verizon MiFi. I also can leave the zipper open and slide my Apple Bluetooth keyboard in with the iPad for those rare times when I plan to use it with my iPad to type. And when I am going to hook my iPad up to a projector, the VGA cable and Dock to VGA dongle fit in larger external pocket or inside the case with the iPad.
The HP Mini case is not that expensive. I got mine for $30 but now it is available directly from HP for just $20 plus shipping. It know it seems like sacrilege if you are a sworn Apple fan boy to carry an Apple product around in a case designed for an HP netbook, but I am finding it to be an excellent solution. It also does not scream "iPad! Come steal me!" to would be thieves.
The combination of these two cases is working great for me until I find the perfect case. When I do I will be sure to let you know.
Advertisement