Chilly snowy, rainy winter weather and modest simplistic black & white are wonderful; but the same ol' same ol' can sometimes get a bit dreary. How about adding a little cheer, a bit of personality, some individuality and to your iPhone? If you're in need of some color, Speck's spring line of cases is perfect for adding a splash of cheer to your iPhone.
Speck has just added 8 new fitted fabric hard cases and a handful of uber bright hard shell, soft center, CandyShell cases to their lineup of iPhone 3G & 3GS cases. There's a color, a style, and a type for just about anyone. From Book smart, pink loving fashionista to mild mannered casual geeksters and creative minded, art hipsters – there's a Speck case for you.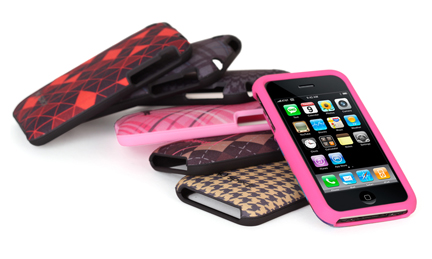 I can't help, but love the huge selection of color and patterns that Speck offers in their Fitted & CandyShell collections. The Fabric adds a unique texture and quality that I can't wait to get my hands on. The colorful CandyShell cases have just the right amount cheerful POP! There's definitely a case for every outfit in my closet. The fashionista in me heartily approves of Speck's newest selections.
Check out Speck's new iPhone cases to brighten up your iPhone add a little color and express yourself.
Advertisement