Shredding is unavoidable in most offices, but with the Swingline Stack and Shred you can focus on work, not on shredding papers. Unlike traditional shredders, which can handle 5 pages at a time, the Stack and Shred allows you  to put 100 pages in, staples and all, and get back to work. You can even shred Credit cards and this handy shredder won't skip a beat.
Swingline may be best known for their famous staplers, but if Milton had a Stack and Shred, we're pretty sure he would be just as protective of his shredder. The [amazon_link id="B004CRSLYE" target="_blank" container="" container_class="" ]Swingline Stack and Shred[/amazon_link] retails for $250, but we have seen it as low as $199 from several retailers already.
We try to go as paperless as possible in our work, but because we still get paper from others we often find ourselves left with a pile of papers waiting to be shredded. In the past we had trouble finding the time to set aside for feeding 6 sheets at a time into a finicky shredder, but with the Stack and Shred we can toss in a pile of papers and get back to work.
Swingline Stack and Shred Video Review
Please note, you should not shred CDs in the Stack and Shred. We were mistaken in our video overview.
Swingline Stack and Shred Overview
The Stack and Shred is a bit bigger than the $20 shredder you might find at the end of the shredder aisle at Staples, but it uses the size well. The shredder opens and allows you to put 100 sheets, paperclips and staples included, into the shredder and they will be automatically shredded into confetti. The basket can hold 7 gallons of shredded material so that you aren't constantly emptying the shredder.
The Shredder can also shred credit cards without opening the shredder up. There is also a slot on the top that allows you to shred a few sheets without opening the shredder.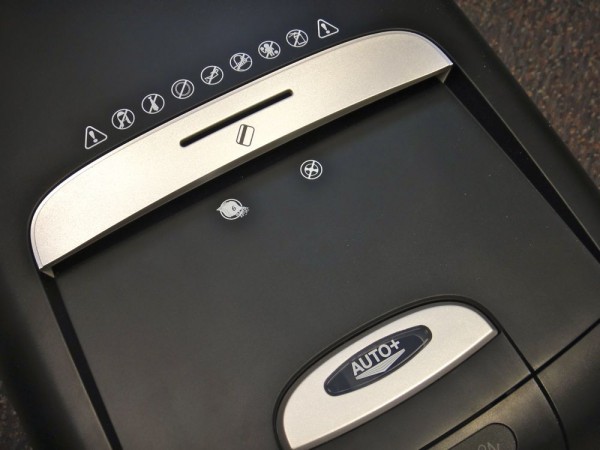 Speed and Ease of Use
The Stack and Shred is incredibly easy to use and really convenient for people who hate waiting on their shredder and dealing with the backups and jams that occur all too often with most shredders. During our time with the Stack and Shred we didn't have issues with jamming and appreciated the ability to toss a few sheets into the shredder and get back to work.
We didn't time the shredder to see how long it takes to shred 100 pages, but it is fast enough that we can put a pile of pages in, check our email or write an article, and come back to confetti and an empty tray. We really love not needing to babysit or hold the paper while the shredder does it's job.
In order to really put the Stack and Shred through its paces, we had lent it to a student worker at the local university who has to shred paper a few times a month. After a day of use, we were surprised to find out that he didn't like the Stack and Shred. When we asked him why, he told us that there was nothing for him to do while it shredded, somehow missing the pile of work that was waiting on the desk behind him. He did concede that the Stack and Shred would be a good fit for someone who needs to get work done, which is the whole reason for getting the Stack and Shred.
Noise
We didn't have any issues with noise on the Stack and Shred. Yes, you can hear it while running, but it's not loud enough to be annoying. You can hear it in the video review above, but keep in mind it was out in the open and we were pretty close. If you put it under a desk and are a few feet away it is easy to forget about.
Usefulness
If you need to shred your own documents and you hate feeding 5 to 10 sheets of paper into the shredder for 20 minutes, then you'll appreciate the Stack and Shred. Plus, it's cheaper than hiring an assistant to shred for our.
Conclusion
If you find yourself shredding papers instead of working, then you should check out the Swingline Stack and Shred. This stapler won't make you more productive all by itself, you'll need self control, but it will free up part of your workday so that you can get more done. Alternatively, if you don't tell anyone, you can play Angry Birds while the paper shreds and everyone else thinks you are working.
Swingline Stack and Shred Gallery
Advertisement