The Samsung Series 3 11.6″ Notebook won't wow users with power and speed, but it does offer a step up from low-end netbooks at a nice price with understated style and mobility. Since picking out this ultramobile machine I've been pretty impressed.
I picked up the NP300U1A-A01US model over the holidays for a steal for only $350, which is part of why I am impressed with this machine. Sadly the price jumped back up to $699 after Christmas, but if you look around you can get this nice little laptop for a lot less than retail. The Series 3 11.6″ Notebook is worth it for mobile users with simple business needs.
$500 budget notebooks are a dime a dozen these days. I like the Samsung Series 3 machine because it has decent power, sufficient battery life and a comfortable keyboard. Unfortunately a few of the features come up short.
Pros
The computer has a decent display, comfortable keyboard and decent performance for an Intel Core i3 notebook at an affordable price.
Cons
You're not going to do much multimedia work and the battery doesn't last as long as many ultraportables. The keyboard's extra keys feel cramped and the touchpad is not up to task.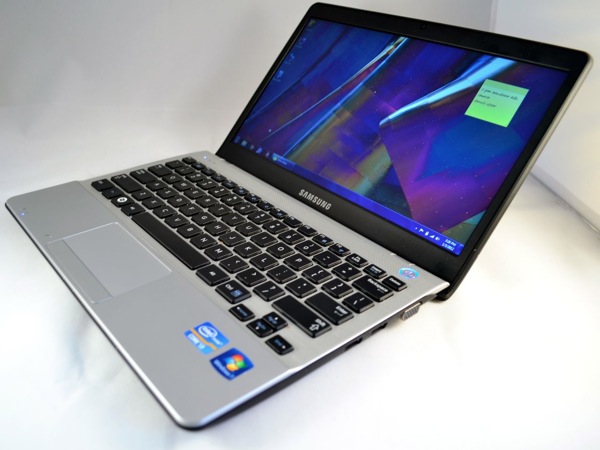 Quick Specs
My Samsung Series 3 came with an Intel Core i3 2357M processor, 4GB of RAM and a 320GB hard drive. With Intel GMA HD graphics and a 1366 x 768 screen resolution on the 11.6″ display, you get bare minimum HD 720p. The b/g/n Wi-Fi and Bluetooth 3.0 provide basic wireless connectivity. You can hook the notebook up to a TV or projector via HDMI output or VGA. There are 3 USB 2.0 ports, Ethernet, and an SD card reader. If you want to watch movies you'll have to stream them or download them, as there is no DVD drive.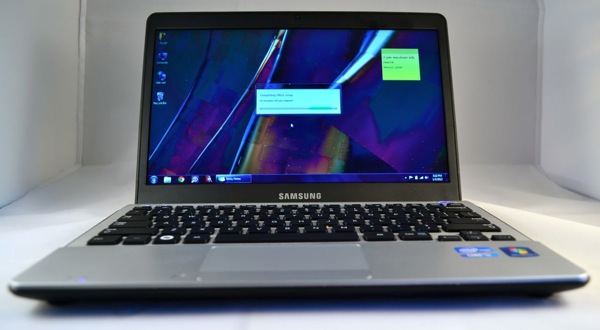 Samsung Series 3 | $489 | Portable

The Competition
Who is the Samsung Series 3 For?
Mobile users who don't have very demanding needs will enjoy this little system. It fits nicely between all the tiny netbooks amd heavier systems with 14 or 15-inch screens. If playing Angry Birds or Bejeweled satisfies your gaming needs, then you will feel at home using the Samsung Series 3 NP-300U1A.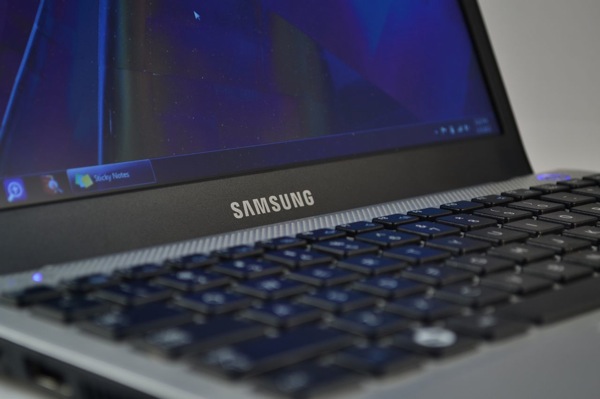 Video Review
Design and Build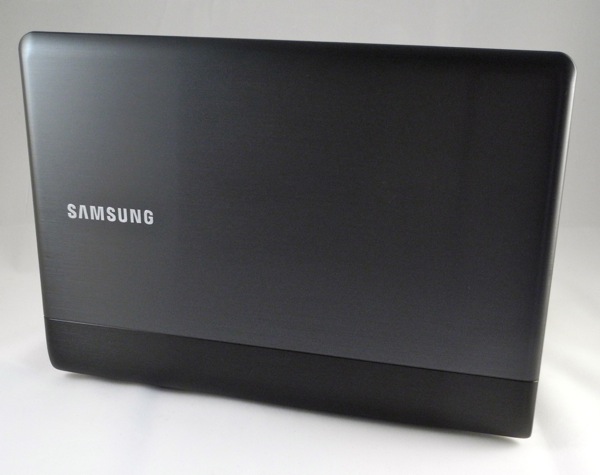 The Samsung Series 3 feels pretty sturdy for a small computer. The brushed aluminum lid has a slightly two-tone black/dark great finish that looks nice even if it does attract finger prints. The Series 3 isn't as thin as the Series 9, but it's still a sleek and attractive looking notebook.

Along the front (see above) you have the SD card slot on the left and the fan two fan vents that you can't even see when the computer sits on a flat surface. That's because of the tapered design of the bottom of the chassis.

The left side (see above from left to right) includes the power connector port, which is smaller than most laptops. The Ethernet port folds out, thanks to the thinness of the computer's base. In between a USB port and the HDMI out port you get another exhaust fan. Closest to the front is a dual mic/headphone jack.

Along the right side you only see two USB ports and the VGA port. The back only has the hinge.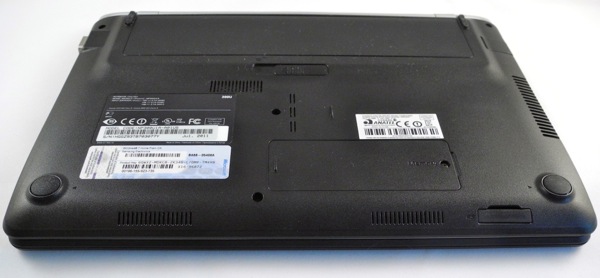 On the bottom you have a door that covers the memory and the standard battery. If you wish to change out the hard drive, you would have to remove the entire bottom case.
Keyboard and Touchpad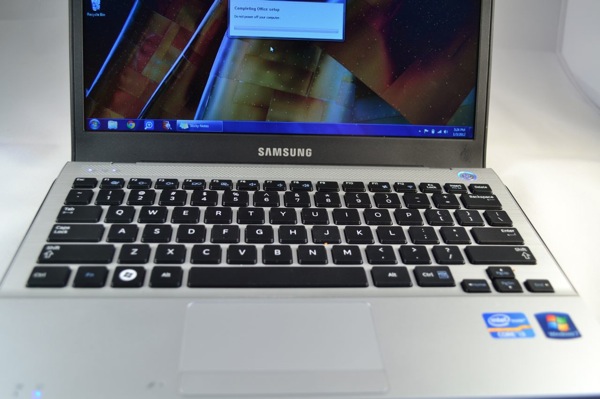 As expected, the keyboard is a little small on this 11.6 inch notebook, but I was still able to touch type without much effort. The key travel was good and the Series 3 doesn't have a mushy keyboard. The chiclet style keys feel good, and while I wouldn't want to write a 10 page report in one sitting or use this as my primary machine, it is great for when you need to answer emails, work on part of a document or surf the web while on the go.
I did have a problem using the arrow keys and the CTRL, Fn, and ALT keys due to the placement, causing me to look down at the keyboard when I needed them.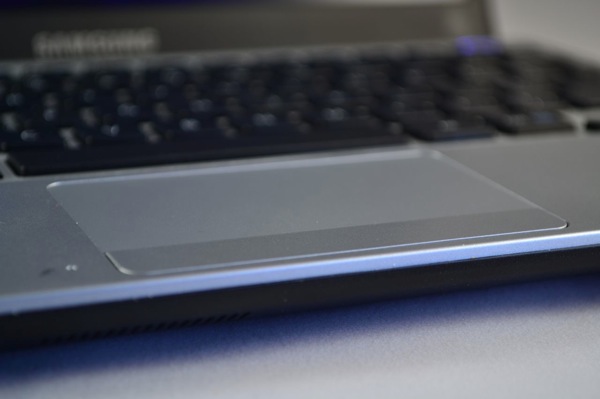 The touchpad is another story. I have to admit that I used to hate touchpads before I started using MacBooks. The atrocious touchpad on the Samsung Series 3 reinforced my opinion of touchpads on Windows notebooks.
It's tiny and only has one button, which I hate. Give me two buttons! Finally, for no reason, the tap-to-click feature just goes away. I uninstalled and reinstalled the driver software, which only fixed the problem temporarily. The driver configuration software doesn't fix it either. A reboot sometimes solves the problem and other times it doesn't. You can still use the buttons, but I prefer to tap.
You'll want to invest in a good travel mouse to go along with this system.
On the wrist rest you have a pair of LEDs near the front left. One shows the charge status when plugged in and the other shows if the computer is powered on or in sleep mode. Along the back of the keyboard you have the speaker grill. Three LEDs show the status of the Wi-Fi, caps lock, and hard drive activity. The power button is on the right.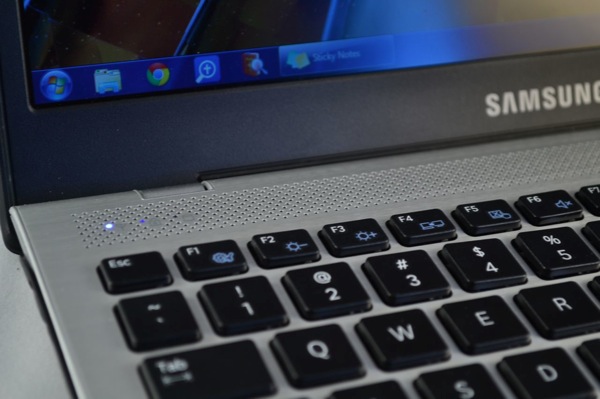 The same bushed aluminum pattern on the lid gives the silver keyboard area a texture. The wrist rest has a speckled texture that feels good as you type.
Display
I'm pleased with the display. It's plenty bright enough for most environments. The glossy screen ruins outdoor viewing, but even in brightly lit rooms I could view text and images without issue. Notice below that the viewing angle allows more than a couple of people to view the screen with you as you share a YouTube video or a website with friends.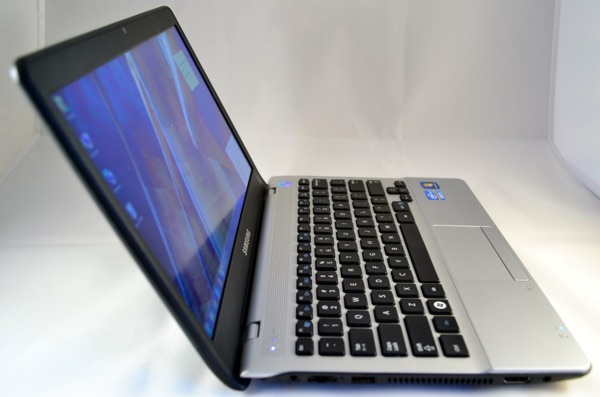 I do wish glossy screens would go away, but I've used plenty of displays that were harder to view than this one. Colors seemed faithful and images and video look good. Text was clear enough to read.
Performance
When you remember that Samsung made this for people with simple computing needs, it performs quite nicely. My kids seldom bother to turn on the TV anymore, fighting over the Samsung for Hulu and Netflix. They enjoy watching videos with it.
Video ran smoothly and programs start up and shut down responsively. I'd love to see how well it runs on an SSD, but with the 5400 rpm hard drive, it worked well.
You'll be satisfied with the Series 3 while running office apps, online stuff and watching video. You won't be satisfied if you want to do anything more than very light multimedia editing or gaming.
Battery Life
The battery on the Samsung Series 3 lasted 3:50 using the Laptop Magazine Battery Test, which repeatedly opens web pages with Firefox over Wi-Fi with the screen brightness at 40% and Bluetooth turned off. That's not bad. It will get you through a morning of meetings and then charge up over lunch to last most of the afternoon. You can take it to class and have time for typing papers in the library afterwards, but I wish it would run for maybe an hour longer at this price point.
Software
Samsung loads up their systems with the typical crapware – Norton junk and proprietary tools for turning things like Bluetooth and Wi-Fi on/off. You get a nice update feature and in the short time I've owned the laptop I've received updates on two occasions, so at least they are still supporting this system despite releasing it more than 6 months ago.
A free copy of Microsoft Home and Student 2010 added a lot of value to this budget system. It isn't the Starter version that accompanies most systems these days. You get Word, Excel, PowerPoint and OneNote along with trial versions of Outlook and Access. After the trial ends you still have the first four programs. That's a nice addition for an budget system.
Amazon Kindle readers will like that it comes pre-installed with their PC Kindle app as well.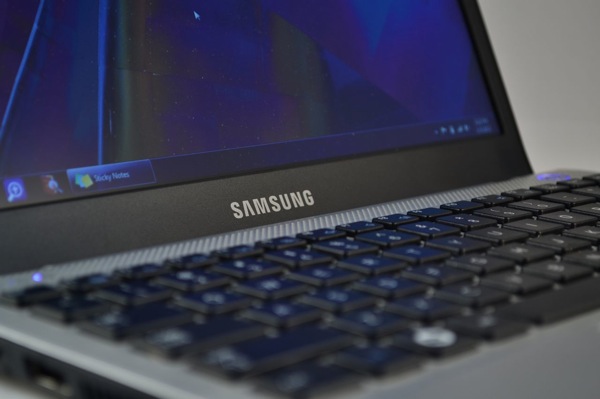 Competition
Samsung released the Samsung Series 3 notebook before the Ultrabook craze hit. I'd rather have one of those, but at two to three times the price budget buyers get a great deal. For the mobile-minded user who wants a decent computer without paying Apple prices, the Samsung Series 3 is a good option. If you like what you saw you might want to compare it to the HP 3115M or the Gateway NV55S05U.
Few other ultra-portable notebooks in this price range come with a free copy of Microsoft Office making this a great option for those who don't already have a retail copy of the office suite.
Gallery
Advertisement