For those of us jumping from Windows to a Mac, one feature I miss from Windows 7 is the live previews that the OS shows you as you hover over the taskbar icons. With Dockview you can now have those Windows Style Live Previews of your open applications.
The simple utility will run in the background and shows you a live preview as you hover over your OS X Dock icons. If you have more than one instance of that application running it shows you all of the windows for most applications. For example, in the image below I have two Microsoft Word documents open. When I hover over the Word icon in the Dock it shows me two live previews of each dock. Move your mouse point over one of the previews and a preview of that document will fill the entire screen, with a slightly colored hue to visually tell you it's not open but just a Dockview preview. Click on one of the live previews and it will bring that window to the front, ready for you to use.
The live previews also have a keystroke, which you can use to bring the window to the forefront. It assigns keystrokes using the Command key and numbers. If you have two windows they will each have a keystroke for bringing it forward (Command+1 for the first and Command+2 for the second and so on).
Below is the company's demo video:
The Dockview icon doesn't show up in the dock itself by default, but runs as a menulet. From there you can adjust all of the many preferences which let you control how you want Dockview to work.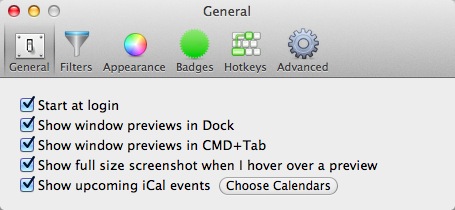 You can change the color and look of the live previews. You can change the hotkeys for engaging windows. You can also change which kinds of windows you want that will have live previews.
I love this utility, which you can get in the Mac App Store for just $4.99. When you first install the app it warns you that it doesn't behave well with Dock Magnification turned on in OS X, but I didn't have much trouble even with magnification turned on.
Advertisement