Along with the new iBooks, iBooks Author and iTunes U app, Apple released an iTunes update taking it to version 10.5.3. The update allows you to sync the new interactive iBooks textbooks on your iPad with iTunes on your computer. There isn't anything else new in this update.
You can get the update by running Software Update from the Apple menu on your Mac or by going to iTunes.com on a Mac or PC to download the new version and install it yourself.
Here's how Apple describes the update from Software Update: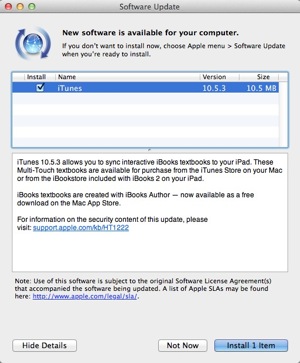 iTunes 10.5.3 allows you to sync interactive iBooks textbooks to your iPad. These Multi-Touch textbooks are available for purchase from the iTunes Store on your Mac or from the iBookstore included with iBooks 2 on your iPad.

iBooks textbooks are created with iBooks Author — now available as a free download on the Mac App Store.

For information on the security content of this update, please visit: support.apple.com/kb/HT1222
iBooks received an update that lets you buy these new interactive textbooks announced at an Apple event today in New York City. The company released a new Mac OS X application in the Mac App Store to go along with this change. With iBooks Author you can create these multimedia-rich interactive textbooks and publish them to the iBooks bookstore. You can download the app for free.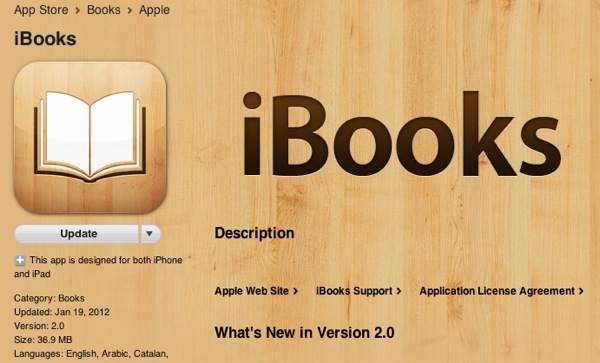 In addition, a new iTunes U came out in app form. It combines the iTunes U lectures and podcasts that you downloaded from iTunes with some course tools in a single iPhone and iPad app you can get free from the iTunes App Store. Teachers can use the app to offer a syllabus, communication with students about things like schedules of classes and office hours, and it incorporates any notes or highlights you've added to the iBooks textbooks related to that course so you have all the material in one place ready for studying.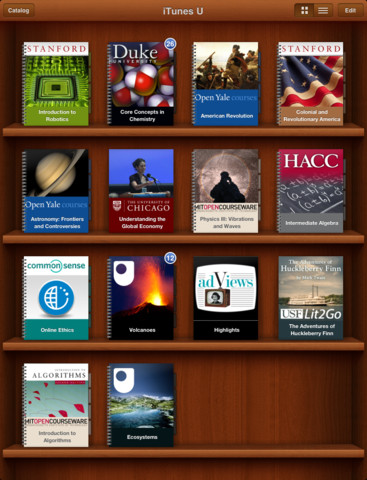 Advertisement