Razer makes some pretty awesome gaming accessories for computers including my favorite mouse and a pretty nice looking set of 7.1 surround sound headphones that will be shipping soon, but today revealed what looks like one of the most interesting and beautiful laptop designs to show up in quite some time.
The perfectly named Razer Blade display measures 17″ corner to corner and will nicely replace your desktop. The black chassis looks huge, but like a razor blade, will be very thin – thinner than a MacBook Pro – at less than an inch thick.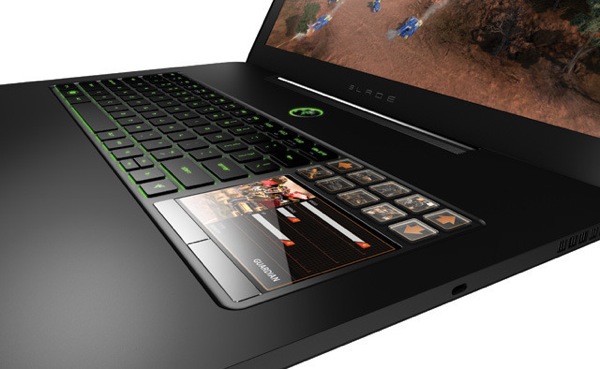 The most interesting features come alongside the right side of the keyboard where you will see an integrated LCD touchscreen. It serves as a secondary display or a multitouch trackpad. Ten customizable keys above it sport their own display so that you can put any image you want on them – like a Notebooks.com Icon that takes you to our site or an icon to launch your favorite game or app.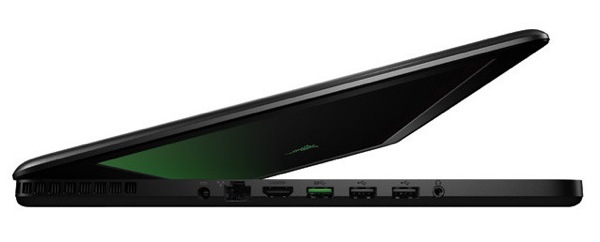 The guts of this beast won't disappoint with a powerful Intel Core i7 processor and plenty of RAM – 8GB. The NVIDIA GeForce GT 555M video card will keep up with just about any game made. The Optimus Technology should preserve battery life while you aren't killing zombies or racing around the track.
It will be interesting to learn what kind of battery life this rig gives users. At under 7 pounds the thing won't be that hefty for a large system like this. You won't be sliding it in and out of a bag like a MacBook Air, but you'd expect a powerhouse like this to come in at over 8 pounds.
The design and style of the system looks awesome. The typical black with green Razer trim looks nice. The keyboard has green backlighting.
The details specs include the following:
2.8GHz Intel Core i7-2640M processor
8GB of 1333MHz DDR3 RAM
NVIDIA GeForce GT 555M with Optimus Technology and 2GB of dedicated video memory
320GB 7200rpm SATA hard drive
HD Webcam
802.11 b/g/n Wi-Fi
16.81″ wide x 10.9″ deep x .88″ thick and 6.97lbs
From the image above you can see that it has an Ethernet port, a HDMI out port, what looks like a USB 3.0 port next to two USB 2.0 ports and a headphone jack. We will learn more when it ships.
The Razer Blade won't come cheap. The gaming company will launch the laptop this fall for $2,800.
via Slashgear
Advertisement