It doesn't sound like something possible, but Razer promises to deliver a set of 7.1 surround sound headphones in Q4 2011 called the Razer Tiamat. Each side of the headphones will contain five drivers delivering what they call "pinpoint positional surround sound" for gaming primarily.
Razer explains that the 10 drives will give you all seven directions. This begins with two speakers, one in each ear, representing the center channel. Then you get a left and a right speaker. There is the surround left and surround right plus the left and right surround back speakers. Finally there are two subwoofer speakers in each ear for a total of ten.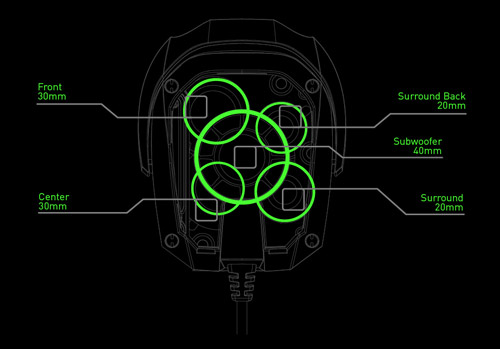 The user will be able to control and fine tune the experience much like you would with your stereo system, raising and lowering the volume of each channel to make it sound just like you want it to. The control unit connects to the wire in-line. The headphones also contain a noise cancelling microphone so you can talk to your victims as you shoot them up in a game. Razer didn't say whether the set plugs in via USB or another connection.
Whether these will truly provide an immersive surround sound experience remains to be seen sometime after October of this year. I'm guessing you will see these in time for the important holiday buying season beginning mid-November.
In addition to the 7.1 system, they are offering another simple stereo headset by the same name – the Razer Tiamat 2.2 Stereo Headphones. This set will have two main speakers and two bass speakers, one of each in each ear.
The 7.1 set will cost $179.99 and the 2.2 set will cost $99.99 available later this year.
Advertisement