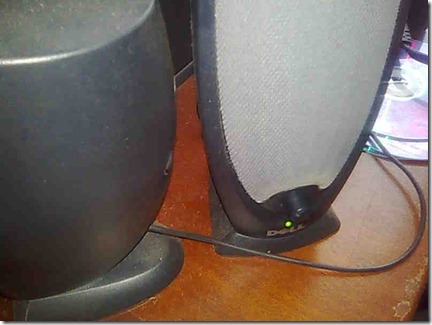 Sound is an important part of using your PC. We use our notebooks to listen to music, listen to the audio in a movie, while we chat with friends and to listen to online radio and video. Sound also indicates various events that take place in Windows, alerting you to a completed download, computer startup, common errors, new emails, calendar events and much more.
Unfortunately, sound may stop working in Windows 7 for a number of reasons. Because sound is an important part of using your computer, we take a look at resolving common sound problems in Windows.
The first thing I always recommend users try is check if the speaker attached to their computer is not turned on or turned down, this can be an obvious 'duh' moment, but it happens on numerous occasions to the best of us. So check that first before doing anything drastic.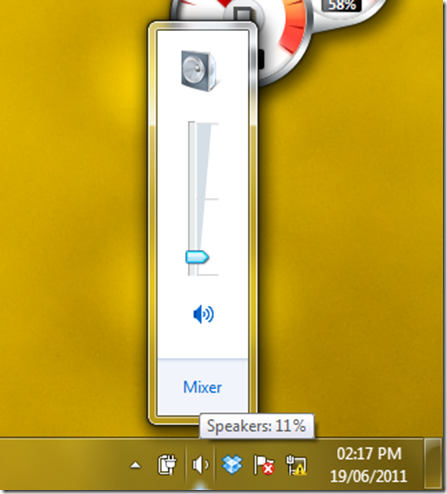 If you are using a laptop, you can check the volume control in the Notification Area of Windows to see if it's turned down. Most laptops also have an embedded function key, for example, Fn + Function key used to mute or turn on the volume, you can also check this to see if it might be preventing you from hearing sound.
Windows 7 Audio Troubleshooter
If the above tips don't resolve these common sound problems, its time to move on to the next solution, the Windows 7 Audio Troubleshooter, which can help you try to automatically resolve problems with audio.

Click Start, type: troubleshooting.

Hit Enter on your keyboard.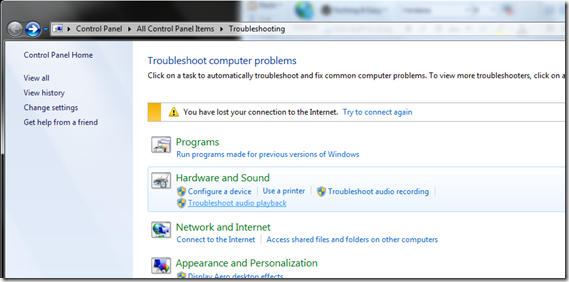 This will open the Troubleshooting Control Panel item. Under Hardware and Sound click the link to Troubleshoot Audio Playback.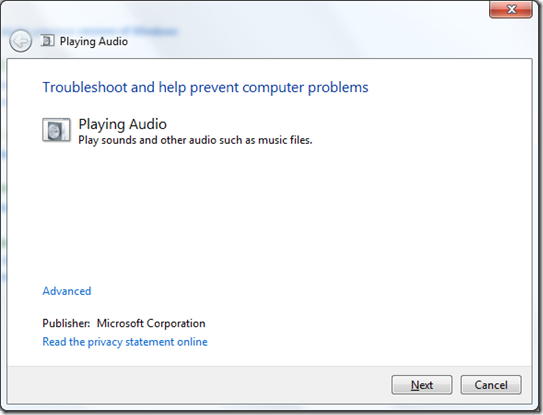 This will start the audio troubleshooting wizard, click Next to start it. It will go through a series of diagnostics test to see what might be preventing audio playback or what is not running such as the Windows Audio service. If it still does not resolve the problem, then we need to go on to some manual options.
Check the Windows Audio Service
The Windows Audio service manages audio for Windows-based programs. If this service is stopped, audio devices and effects will not function properly. If this service is disabled, any services that explicitly depend on it will fail to start.

Click Start, type: services

Hit Enter on your keyboard.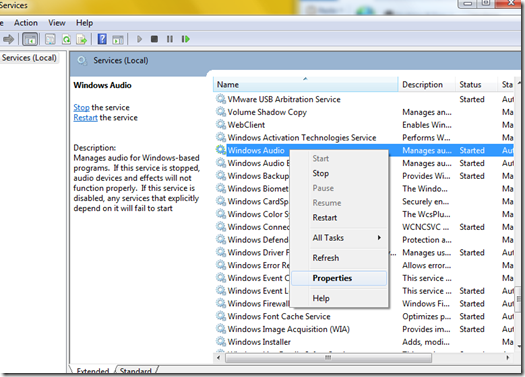 Scroll down to Windows Audio, right-click it and click Properties.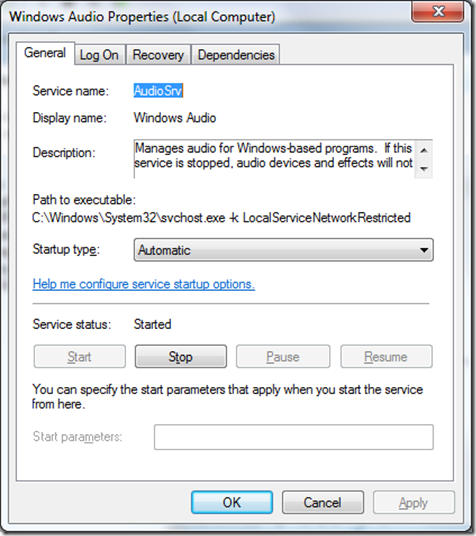 Under the General tab, make sure that the Startup type: is set to Automatic If it isn't do so and click Start under Service status then click Apply and OK. Check to see if Audio is working again.
Update Audio Drivers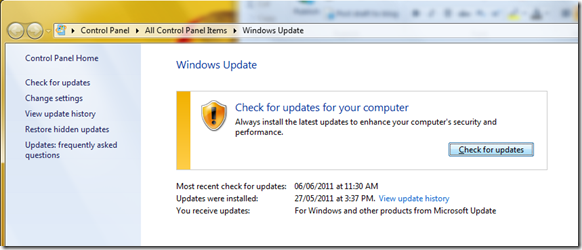 When you upgrade from a previous version of Windows, this can sometimes break drivers. If you recently upgraded to Windows 7 and audio is no longer working, you probably need to install an updated driver. The first place you can check is Windows Update. Click Check for Updates and look for any audio related updates for your hardware. If there none available, you need to check the manufacturer's website.
If you were previously running Windows Vista, you could try using the Windows Vista driver in Windows 7 since they share the same driver model. Try installing the same Windows Vista driver using Windows Troubleshooting. Right-click on the driver executable/installer file –> click Properties and select the Compatibility tab; click the check box before Run this program in Compatibility mode for option and select Windows Vista in the list-down box. Then try installing the device driver via Run as administrator.
For more, check out this article about How To Install, Update and Troubleshoot Hardware in Windows 7.
Plug in Headphones
My brother recently updated his DELL Inspiron laptop running Windows 7 RTM to Windows 7 SP1. After upgrading he realized that audio playback wasn't working anymore. We tried what seemed like every possible solution, including the ones above, but none worked.
On a whim I decided to plug in my head phones, I could hear sound, but none was coming from the built in speakers. I unplugged the speakers, restarted to continue troubleshooting the problem, to my surprise, I started hearing audio from the built in speakers again.
What seemed to have happened is plugging in the head phone diverted the sound signal from the external speakers but there are times when unplugging the head phones from audio jack does not return the signal to the built in speakers. So by plugging in the head phone into the sound jack will sometimes resolve this type of problem.
Hopefully these tips can help you resolve any problems you might have with audio in Windows 7.
Advertisement