ASUS is showing of some new 3D gaming notebooks at Computex, including their new Republic of Gamers G53SX Naked Eye 3D. They call it the "world's first naked-eye 3D laptop meaning you can have 3D gaming or video without the need for those annoying 3D glasses. This is a big plus for people who already wear glasses or have a problem with vision strain that causes headaches while wearing them.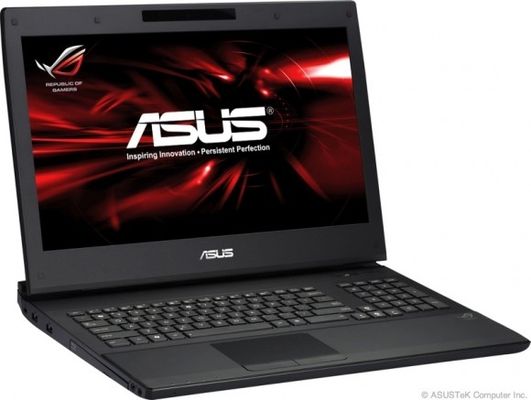 Naked-Eye 3D Display
How does ASUS do this magical trick of displaying 3D images without need of glasses? Here is what they are saying:
By combining 3D lenticular lens technology with the AUO 'naked eye' eye-tracking system, the G53 screen renders full 3D images that can be viewed from any angle for a more comfortable viewing experience. Both 2D and 3D modes can operate on the screen at the same time too, so on-screen text remains clear at all times.
As Tom's Hardware says, it looks like it is a software thing. Because of this, it can convert 2D images into 3D making it compatible with a lot of games already on the market. Also, the display can render portions of the screen in 3D while keeping other parts in 2D. The benefit is images will be 3D while text, which looks better in 2D, will stay that way making it readable. They are not giving away the technology specifics. As long as it works, the average consumer won't much care about the tech details.
Powerful Specs
The new G53SX is a 15″ notebook with a full-HD 1920×1080 resolution. It has a quad-core Intel Core i7 Sandy Bridge processor, which is a top of the line CPU and should handle the strain of the latest and greatest games as well as hard-core processor intensive tasks like video encoding and playing system-taxing games.
To go along with these specs it has one of the new NVIDIA GeForce GTX 560M graphics processors with 2GB of GDDR5 video RAM and Optimus technology. The new GTX  560M provides powerful video capability and integrated wireless output as well as 3D video over HDMI 1.4.
Throwing in more high-end equipment, ASUS put a hybrid hard drive that adds solid state storage to a traditional optical drive. The SSD portion of the drive will smartly cache the most used files speeding up the system over traditional spinning optical drives. It learns which files you use and places them on this portion of the drive to speed things up. The spinning part of this hybrid drive is no slouch, with a 10,000 RPM rating. That is the fastest available optical drive performance.
Like the other notebooks ASUS is announcing, this one has the dual fan cooling system which sucks in air from the front vents on the notebook and blows it over the hot bits inside exhausting the now hot air out the back.
There is no word on pricing and availability yet, but expect to pay a premium for glasses free 3D.
Advertisement