Kensington announced two new additions to their line of universal laptop power adapters today aimed at on-the-go users who need a replacement power adapter or are looking for one to leave in an office or in their go-bag. The two new power adapters are identical other than the USB port that can be used to charge your gadgets and start at $69.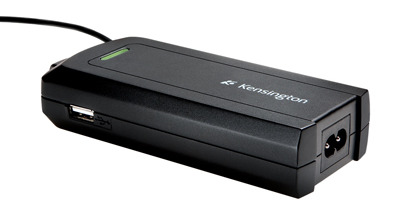 These Adapters work with most notebook brands including; Dell, HP, Compaq, IBM, Lenovo, Toshiba, Sony, Gateway, Acer, Asus. The power adapter with a USB port comes with a Mini USB cable and a Micro USB tip to charge many common cell phones and portable gadgets.
These adapters are Energy Star Qualified and according to Kensington use 30% less power than conventional adapters a savings that Kensington claims could add up to $94 annually per household, or $10.8 billion,  if everyone switched to a Kensington Smart Power adapter.
While some users will purchase these as a replacement, the real draw is in having a spare power adapter that can stay in your home or office and a dedicated travel power adapter that stays in your bag. Not only is this more convenient, it also cuts down on forgetting your power adapter at home and trying to be a power miser for a 3-day business trip.
The Kensington Wall Laptop Power Adapter is $69.99 and the Kensington Wall Laptop Power Adapter with USB Power port is $79.99.
Advertisement