MSI has unveiled the MSI GT683, first notebook to ship with the NVIDIA GTX 560M GPU, both of which were announced at Computex 2011 this week. The new GT683 uses the latest technology to deliver a high end gaming experience for $1,599 from Amazon.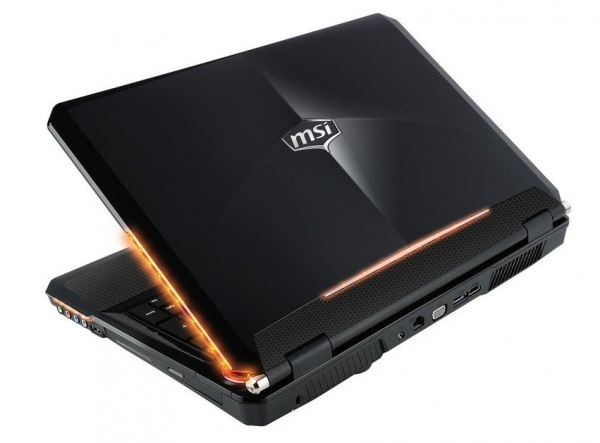 The MSI GT683 has a 2.0GHz Intel Core i7 Quad Core processor, 12GB DDR3 System RAm and a 1TB hard drive with Raid 0. The graphics are powered by the new NVIDIA GeForce GTX 560M GPU with 1.5GB video RAM and pumps your frags to a 15.6″ 1080P HD display for an HD gaming experience. The notebook also includes a collection of MSI technologies designed to speed up and cool down the notebook while you are taxing the components.
The biggest star here is the new NVIDIA GeForce GTX 560M GPU which NVIDIA claims can deliver higher frame rates than the AMD competition, allow users to play games like Crysis and Duke Nukem Forever at 1080P with full detail and make use of NVIDIA technologies like PhysX and more.
MSI GT683 Features
MSI's Exclusive Turbo Drive Engine (TDE) Technology: Easily overclock GPU with TDE, providing a boost in graphics performance to accelerate video decoding and add extra excitement to your gaming.
Cooler Boost Technology: When the game heats up, MSI's Cooler Boost Technology cools the CPU and GPU with a single touch. The technology can manage the fan speed to find the right balance between boosting performance and improving comfort.
Dual SATA HDD with RAID 0: Enjoy enhanced HDD speed and performance and increased HD storage space with a dual SATA HDD in RAID 0 configuration.
USB 3.0: The GT683R features two USB 3.0 ports, delivering speedy data transfers with rates up to 4.8GB per second, and 10 times the bandwidth of USB 2.0. MSI's own i-Charger technology provides three times the power to make charging CE devices faster than ever.
Dynaudio Speakers with THX Surround Sound: In addition to sharp graphics and lightning quick performance, the GT683R creates an immersive gaming experience by including professional sound quality. MSI collaborated with Dynaudio to build the highest quality speakers plus a built-in subwoofer. THX TruStudio PRO delivers cinema-quality surround sound.
MSI GT683 Pricing and Availability
The MSI GT683 is available now from Amazon for $1,599.
MSI GT683 Gallery
Advertisement