When you think of gaming notebooks, normally your mind goes to the recently refreshed Alienware systems, but now you can get your Xbox 360 gaming on with a custom built Xbox 360 Slim notebook. If  you want, you can even get the Xbox gaming notebook customized with a custom engraving and your choice of paint.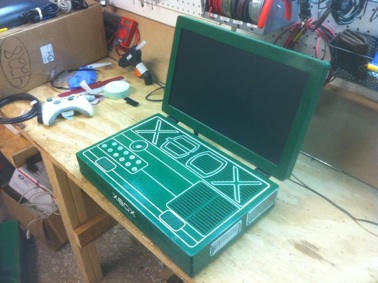 This isn't the Xbox 360 laptop as created by Ben Heck, rather it is a creation of a tinkerer named Ed who recently purchased a CNC machine and went to work.  The end result is an Xbox 360 notebook that can go wherever you want to go and can be played almost anywhere thanks to the built in LCD display.
The setup has a 17″ 720p display, component out, backlit buttons and feature built in wireless, USB ports and a network port. Unfortunately there is no Kinect port. Thee is no battery, but the power supply is built in, so you only need to carry a cord.
If you want an Xbox 360 laptop of your own, you can order one from Ed for $1,600 with an Xbox 360 Slim 4GB. There are plenty of options, and if you supply your own Xbox 360 the price drops.
Via TechnaBob
Advertisement