In this article we take a look at how to remove programs that are difficult to remove. Because of the complexity and interaction between programs and Windows, there may come a time when certain applications will refuse to uninstall. This can be attributed to a number of reasons and will vary from program to program, but it can include how the program was designed and programmed, slopping coding, installing to locations in the system where it should not and items relating to the Windows Registry.
Selective Startup
The first thing I try when a program decides it's not gonna uninstall is Selective startup in Windows. I first discovered its wonders back in 2007 when I had Microsoft OneCare Live installed on my system. Some how it was messing with the stability of the system, I couldn't boot into normal mode, I found it was attributed to Windows Live OneCare, because when I disabled it as a start-up item in Safe Mode, I was able to boot into Normal mode properly. The next problem was uninstalling OneCare once I was in normal mode, it just refused to budge. So I booted back into Safe Mode, same thing again. So I decided to do some tinkering and stumbled across a feature in the Microsoft Systems Configuration utility called Diagnostics Mode.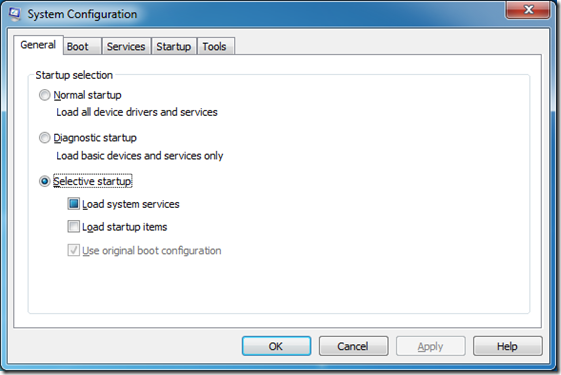 Its self explanatory, it only loads basic devices and services, nothing related to Windows gets loaded in this mode and it only loads the bare essentials for Windows. To access it, just open the Microsoft System Configuration Utility, click Start, type: msconfig then hit Enter on your board.
Under the General tab, select Selective startup then click Apply and OK
Restart your computer. Once in Selective Startup mode, proceed to uninstall the program, go back to msconfig and select Normal startup so Windows will load normally.
Revo Uninstaller
Suppose Diagnostic mode fails to uninstall the troublesome program? Here is another solution? This will require that install a freeware utility called Revo Uninstaller, there is also a paid version, but the free version should be enough for most users needs. Revo Uninstaller is very detailed and provides insightful details about the program it is attempting to uninstall, including things like registry entries and where the program places files on your hard disk.
Here's a quick look at how to use Revo Uninstaller.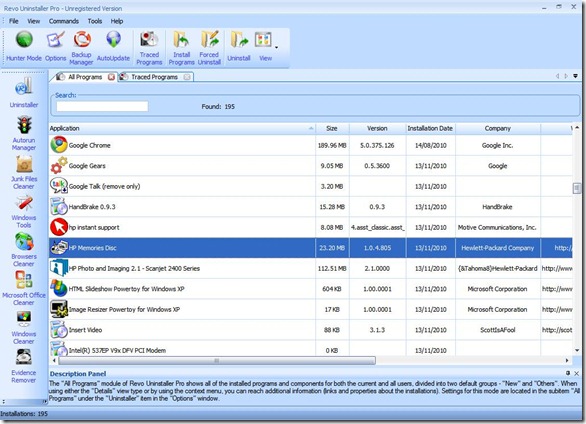 Launch Revo Uninstaller after installing, select the program you want to uninstall or search for it using the built in search tool.

Click the Uninstall button on the toolbar.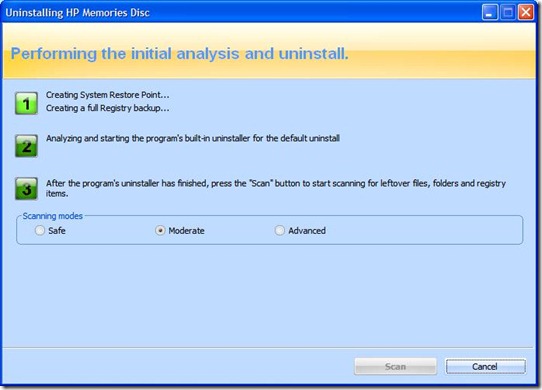 This will start the uninstallation wizard for the particular program you selected. Revo Uninstaller will go through a series of steps which include creating a system restore point, creating a backup of your Windows registry.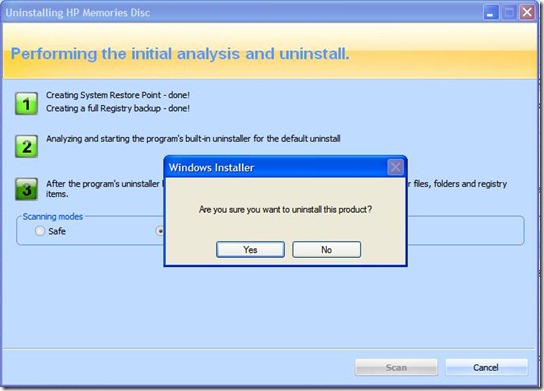 Then analyze the program and run its default uninstaller, click Yes when you see the above dialog. After the uninstall is completed, you have a choice of scanning modes to select from. What this will do is let you scan for any left over files, folders and registry items from that particular program. Safe looks in the usual places, moderate in more advanced locations while Advanced does a thorough search throughout the entire computer. After selecting your choice, (I went with Advanced), click Scan.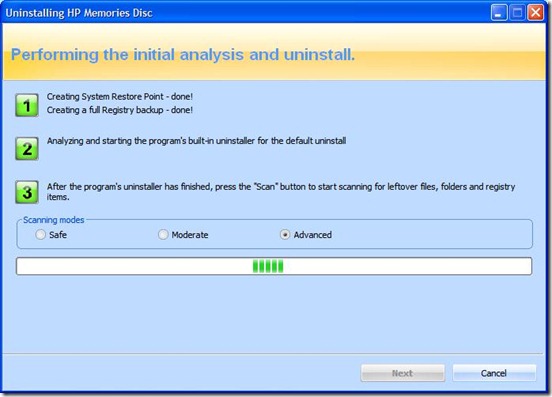 Scanning for any leftover files, folders or registry items.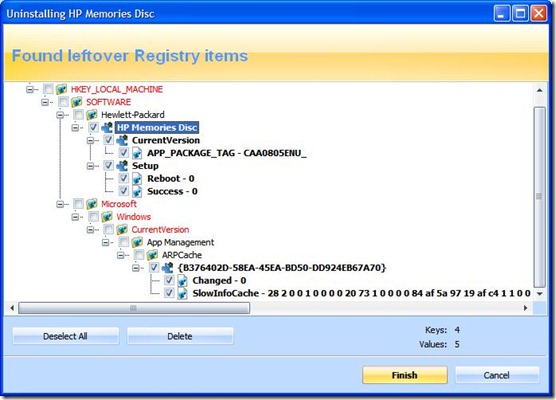 After the scan is complete, you will see a list of registry entries left behind by the program, select them then click Finish to thoroughly remove the program from your system.
The default uninstaller should work for most users, but for those troublesome programs, the Force Uninstall feature and advanced scanning options will give you more control. A handy tool indeed.
Common troublesome programs
Common programs that are often difficult to remove include utilities such as Antivirus or maintenance programs. Sometimes diagnostics programs will work when trying to remove them, but it's often best you try using a removal utility provided by the vendor of the Antivirus utility. Here are a list of Antivirus removal utilities from popular Antivirus vendors, if you don't have any of the listed AV's installed, check the vendors website for your particular Antivirus uninstallation utility.
Nero: Another problematic program to remove is Ahead Nero. The multimedia suite is prominent for its CD/DVD burning product Nero Burning ROM as well as other tools such photo editing, video authoring, audio editing, file conversion, backup, and an entertainment media center. I noticed that using the Programs and Features uninstall options do not work when removing the Nero Suite. Thankfully, Ahead Software, makers of Nero provide their own removal tool you can use. You can download it here, it's called the Nero General Clean Tool.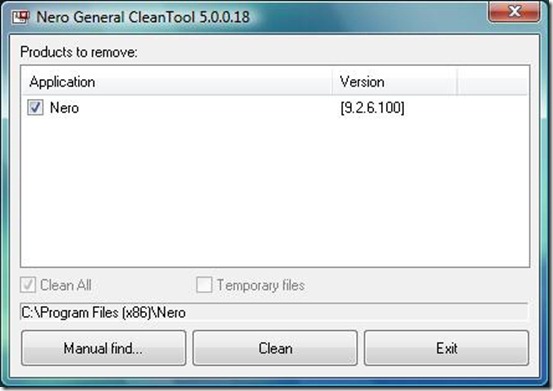 Using the Nero CleanTool is very simple, just down, run it and click the Clean button. That's it!
Microsoft Office: Microsoft Office which is the popular productivity suite developed by Microsoft Corp., can have its moments too when you want to uninstall it. The company also provides some tools and solutions for removing the suite if built in options such as Safe Mode or Diagnostics mode do not work.
Run the Fix it tool to uninstall Office 2010.
If the above step does not resolve the issue, uninstall Office manually by removing all the Office keys from registry. Note, read the disclaimer mentioned in this article before performing any troubleshooting steps.
iTunes: If you use iTunes, Apple provides instructions for removing and reinstalling iTunes, QuickTime, and other software components for Windows Vista or Windows 7. ByeTunes is also another popular solution for removing iTunes.
Advertisement