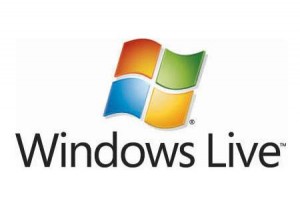 I have written a number of articles so far discussing Windows 7's various features and improvements. One of the top questions I come across from persons who have recently upgraded to Windows 7 is the lack of a built in email client; and, for persons who moved from Windows Vista programs like Windows Movie Maker and Windows Photo Gallery. Over the past three years, Microsoft made some key decisions about how it would market Windows and improve its efficiency. In future articles my intention is to introduce to you to a key part of the Windows 7 experience which is Windows Live. Windows Live focuses on extending your personal experiences on the PC with family and friends through a platform of free online services and a suite of powerful applications. To put it simply, Windows Live supplements Windows 7.
There are two aspects to Windows Live, services and applications. Programs such as Windows Live Mail and Photo Gallery would fall under applications, while Windows Live Hotmail and Messenger would fall under services. If you have upgraded to Windows 7, you will realize programs that were once integrated into the operating system such as Mail, Photo Gallery, Movie Maker are no longer available.
Why did Microsoft decide to decouple them from Windows?
Brian Hall, General Manager for Windows Live, notes that removing programs such as Photo Gallery, Mail and Movie Maker from the core operating system will give Microsoft more time to focus on the core operating system experience in addition to improving the efficiency of things like service packs, which could ultimately be fewer and smaller. Mr. Hall also said that a cleaner operating system eliminates potential confusion for customers faced with two different programs that are similar in function-one already in Windows and the other from Windows Live. He also said that Microsoft is working with OEMs around Windows 7 so that they can place shortcuts that will link to a download page where you can choose just the programs for you.
So how can I get Windows Live?
For persons who need programs such as Windows Live Messenger, Photo Gallery, Mail and Movie Maker, all you need to do is visit https://download.live.com and download the free Windows Live Essentials.
Windows Live Essentials, what is that?
Windows Live Essentials is a suite that contains all the programs you are looking for and more, just like you would have Microsoft Office for productivity purposes. Microsoft has created a suite which bundles applications for the multi-media/consumer oriented part of your life. In addition to the common programs you want, Windows Live Essentials includes software for syncing information between your PC and the Internet, writing beautiful posts you can publish to your online journal, technology to download mail to your Microsoft Office Outlook if you prefer using that program and be able to sync your calendar.
Do I have to download it on every computer I setup with Windows 7?
Yes, Windows Live Essentials is delivered by default as a 1 MB web installer from which you can pick and choose the programs you would like to use. If you are on a slow connection and would prefer not to download the suite every time need to install it, you can download the entire suite by doing the following:
Click Download link for the Live Suite, and then cancel it when the 1 MB download option appears. Click the Try again button and you will be presented with 137 MB installer, this option includes everything.
Tell me a little bit more about each program?
Sure, Windows Live Essentials include a wide range of programs for photography, email, blogging, video editing, instant messaging and data synchronization.
Windows Live Photo Gallery – Almost everyone has a digital camera of some form, whether its a dedicated point and shoot or one that is integrated into a mobile phone. You are constantly capturing memories every chance you get, whether its at the beach, family get together, plants in your garden, nature walks or just random stuff. With all that picture taking, you need a great way to manage, store, and share all those photos and even short videos you might capture from time to time. Photo Gallery is the tool of choice. Photo Gallery includes basic editing tools too, such as the usual fixing red eyes, straightening, cropping, color effects and panoramic's. We will get into detail in a future article.
Windows Live Mail – Communication is a key part of our lives. Email is one of the most used software technologies for communication. You can use Live Mail to send, receive, and manage email offline. It includes support for HTTP, POP3 and IMAP along with support for popular mail services such as Hotmail, Yahoo! and Gmail. Live Mail also features an integrated Calendar that supports synchronization with your Windows Live Hotmail Calendar.
Windows Live Messenger – An instant messaging client with support for video conferencing and support for Yahoo! Contacts.
Windows Live Writer – A blogging tool for publishing content to online journals such as Windows Live Space, Blogger, Live Journal, WordPress and more.
Windows Live Movie Maker – This new version of Microsoft's video editing tool makes it easy for you to put together short movies that you can burn to DVD or publish to YouTube.
These five core applications make up a complete experience, but the suite goes beyond that and we will discover them in more detail in the next series of articles.
System Requirements
Operating system: Windows XP with Service Pack 2 (32-bit edition only), Windows Vista (32-bit or 64-bit editions), Windows 7 (32-bit or 64-bit editions), or Windows Server 2008. Note: Windows Live Movie Maker is not supported on Windows XP
Processor: 1 GHz or higher for Windows Vista; 800 MHz or higher for Windows XP
Memory: 128 MB of RAM (256 MB or more recommended) for Windows XP; 512 MB for Windows Vista
Resolution: Minimum 1024 x 768
Internet connection: Internet functionality requires dial-up or broadband Internet access (provided separately). Local or long-distance charges may apply.
Browser: Windows Live Toolbar requires Microsoft Internet Explorer 6 or later.
Graphics or video card: Windows Live Movie Maker requires ATI Radeon 9500 (or higher) or nVidia GeForce FX 5900 (or higher). I have Live Movie Maker working with a nVidia Geforce FX 5200 128 MB AGP, but if you like the Photo Gallery collages, you will need a video card that supports pixel shader 3.0.
Additional requirements
The following components are needed for specific Windows Live programs, and may be installed for you if they're not already on your computer.
For Writer: Microsoft .NET Framework 2.0 or higher*.
For Photo Gallery: SQL 2005 Compact Edition and Windows Imaging Codecs*.
For Photo Gallery and Movie Maker: Some components of DirectX9.
* Not required when installing on Windows Vista.
Note: To install or uninstall Windows Live products, you must have administrator rights on the computer.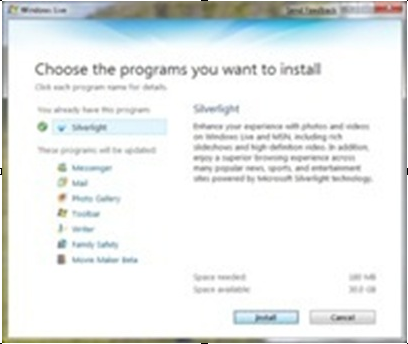 Setup: After launching the Windows Live Essentials setup, the Welcome Screen is displayed, next is the Service agreement page, which you must agree to then the programs page which list all the programs that come with Windows Live Essentials.
Checking for open programs: Before Windows Live begins the installation, you must ensure that certain programs are closed such as Internet Explorer which installs add on programs such as the Live Toolbar, Silverlight for viewing dynamic content on web pages and for persons who use Microsoft Outlook, the Office Outlook Connector for managing your Live Hotmail email, Live Calendar and Contacts.
Installing the applications: During the install wizard, you are given a quick over view of some of the capabilities of Windows Live Essentials.
Completing Setup: Once installation is completed, you can have Live do some post setup task such as default your Search provider to 'Windows Live Search', set your default home page to MSN, submit feedback when you encounters an error using Windows Live Essentials applications and help improve Windows Live Search results all of course optional.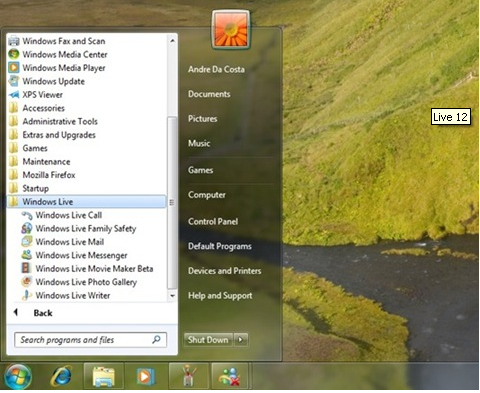 Accessing your Windows Live apps: You can start using your Windows Live applications by going Start > All Programs > Windows Live or click Start and type 'Windows Live'.
In our next article, we talk about Windows Live Photo Gallery!
Resources:
A Guided Tour of Windows 7 for New Users
Advertisement