Today Apple will have an iTunes related announcement dubbed "just another day … you'll never forget." Immediately speculation began as to what was coming.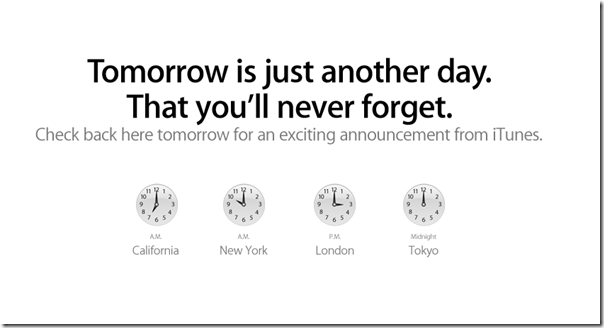 When the above popped up on the Apple home page, people began to wonder if they would announce a new music streaming service, a monthly subscription service or something to do with the anticpated arrival of iOS 4.2. However, the Wall Street Journal is now reporting that the announcement will be that the Beatles will be coming to iTunes…Finally.
The negotiations were ongoing up till as recently as last week, according to the WSJ. They do not know if other services will have access to the catalog. The Journal said that the Beatles are still a big cash source for the record industry even though they split up nearly 40 years ago.
If you were looking forward to a streaming music service like Pandora or a subscription service like the Zune Music Pass, where you pay a set monthly fee for all you can listen to, then you will have to keep waiting, if the report is accurate.
Advertisement