The iPhone 4 is one of Apple's most successful devices. The first day preorders crashed AT&T's system and it is still not easy to find at an Apple or AT&T store, but the question remains. Does the iPhone 4 live up to the hype?
In this series of posts I will focus on the iPhone 4's various uses to help you decide if you should buy the iPhone 4. In a nod to the most well-known feature of the new iPhone it's troubled new antenna design I will rate each area using between 1 and 5 bars with 5 being the best.
iPhone 4 as a Productivity Tool
If you are looking for a simple Personal Information Manager that does a lot more, then the iPhone 4 is a very good productivity tool. One thing that sets it apart from the previous iPhone versions is the Retina display that makes reading text on the screen much easier; in general the experience of managing your information is very much the same.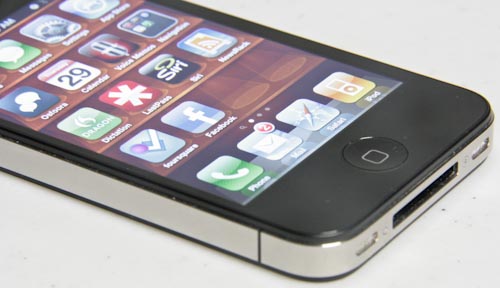 Everyone uses their phone differently. My work tools are primarily in three categories. Personal Information Management, Research, and Note Taking. With the iPhone 4 it is really more about the apps than it is the hardware. But limiting this review to the Apple installed apps; the iPhone 4 is still useful. That said, if you want to get work done, or do a little more you'll need to visit the Apple App Store to look for additional tools.
Personal Information Management
As mentioned before, the iPhone has the capability to sync with many different services and accounts. You can use the Apple provided MobileMe which has a free service for 60 days and then costs $99 annually. Optionally, you can go with other services. I use Gmail and Google Apps to handle email, contacts, and backing up of my notes. With the iOS4 update that comes with iPhone 4, for the first time you can have multiple exchange accounts meaning I can sync with my personal Google Apps account and the one I use for work. This is a big upgrade that is also available on the previous iPhone via an update to iOS4.
Having threaded conversations is also a plus. This is where a conversation including more than one email will be grouped. So if you email a friend asking if they want to have lunch and they respond suggesting McDonald's, the two messages will be grouped and listed as one item in your list of messages.
One of the very nice features of the new OS is spelling correction. It was limited in the previous iOS, but with version 4 it is prevalent in most apps, especially the default Apple apps. The small on-screen keyboard of the iPhone is challenging for people with big hands but the autocorrection and the spell checking feature makes typing on the keyboard easier.
Research
My research with the iPhone usually means looking things up on the Internet, checking maps for locations of places, and finding out what the weather is going to be like. I do other things but not with the default installed apps.
Safari on the iPhone 4 is not that much different from previous generations. In fact one reviewer wrote:
"Apple already makes the best mobile browser out there so no major changes were needed in iOS 4."
The addition of the Bing search engine might be seen as an improvement by some. I like having another choice besides Google and Yahoo. I also really like how the new search input field offers suggestions as you type.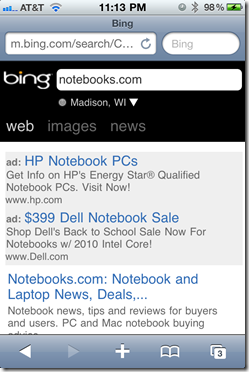 The Maps app is still a nice tool using Google's mapping engine. You can search for nearby destinations and get turn-by-turn directions. They are not automatic, like the higher end GPS apps give. The Maps app does not announce the turns and you have to manually advance them by clicking the small arrow icons in the upper right. But this is not a new weakness. People who use Android based smart phones will view iOS4 Maps as a little stale and in desperate need of a more complete upgrade.
You will notice below that the app does offer multiple map views, including typical street maps, satellite views, and a combination of both called Hybrid". It also does some traffic tracking, although I have found it to be very inaccurate in our area.
The Weather app is acceptable. It also could offer more. The included Weather app is really just a quick look at current conditions with a very limited list of the coming week's temperatures and weather predictions. The link to Yahoo's weather info is helpful but only if you have good Internet access. You can add multiple locations. For these reasons, I do not use it, choosing The Weather Channel app instead. It has more detailed weather information including satellite and radar images, videos from TWC, and hourly weather conditions for the current day, among other things.
The last included app for research is the Stocks app which uses Yahoo's financial information. It gives basic stock information and allows you to track your chosen stocks. But there are likely better apps in the app store.
Note Taking
The iPhone 4's notes app is very familiar if you have used a previous model. It has a yellow legal pad look. There is a basic list of notes when you open the app. Tap one and you can edit it or just read it. You can still email notes, trash them or just read/edit them. Certain things are turned into hyperlinks like phone numbers, web address, and street addresses. Tap a phone number and it offers to call that number. Web addresses offer to open Safari and street addresses give access to the maps.
Something new in this version of the OS is the ability to sync your notes with Gmail. You add this capability via the Settings screen. We previously showed you how. I really like this addition, but again this is not hardware specific, so you don't need and iPhone 4 to get it. Any device capable of running iOS4 will have this functionality.
The Notes app is very limited when it comes to formatting. You get one font face. You cannot change the color, type size and font. If you want to view or edit more advanced documents, you will need an add-on app. But I like it for quick note taking and use it that way.
Conclusion
By themselves, the productivity apps are decent. There are many apps in the Apple App Store that do these tasks better. Personally, I prefer the built-in calendar, contacts, and email apps on the iPhone 4 but use additional apps to handle other productivity tasks.
While I do use Notes some, I prefer Evernote because of its cloud based backup and the fact that many other services and applications now also use it, like one of my Bible apps from OliveTree, which is part of the new Evernote Trunk, a kind of app store with software and services that integrate Evernote. Due to the limitations of the other default apps, for mapping I use Navigon, but also like CoPilot Live. For weather I use The Weather Channel. I don't track stocks with my iPhone at all.
While I have been critical of a few of the default apps, I think the Apple App store really makes up for these weaknesses. It's all about the apps and Apple knows that. They include a few default apps to make the phone useful out of the box, but I'm sure they know that users will replace many of them with downloaded apps. For this reason, I am not knocking too much off my final rating for these weaknesses. Finally, the new retina display makes the iPhone 4 more enjoyable for reading, which is the primary activity when it comes to productivity on a phone. I am giving the iPhone 4, 3.5 bars out of five.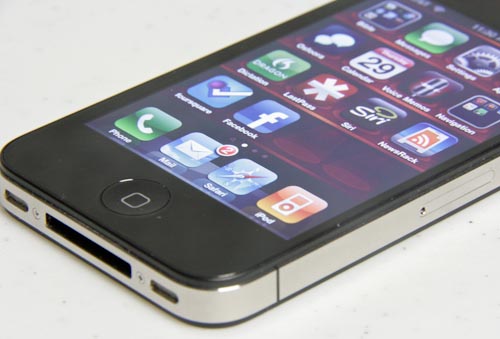 I recognize that one could say much more about the iPhone 4 as a productivity tool, but I only wanted to hit the highlights. Maybe you have an alternative view about some of these apps or a new feature that you think deserves attention. Comment below to share it with us.
Advertisement