DropTunes is a service that streams music stored in a user's Dropbox folder to almost any browser, including HTML5 only gadgets like iOS devices. It is simple to use and set up. The hardest part will be waiting for your own music files to upload to your Dropbox cloud storage space if you haven't already loaded them.
The site is accessed through a web browser like Chrome, Safari, Opera, Firefox, or Internet Explorer 8 and higher. The service is promising apps to come soon for iOS and Android. By default the site uses Flash. However, browsers like Safari on an iPad or iPhone will work because they support HTML5.
Start by logging into DropTunes (the address is actually DropTun.es using the Spanish top-level domain ending .es) with your Dropbox user ID and password. The site automatically creates a folder in your Public Dropbox folder called DropTunes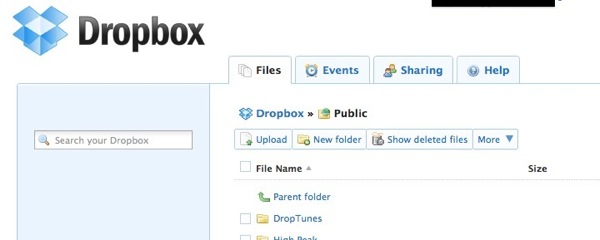 You can choose to use this folder, but I have a folder in my Dropbox folder called music, so I just put my music there at first. Unfortunately, once one file was completed streaming DropTunes would not automatically go to the next song in the folder like it does when the music is in the DropTunes folder under Public. So, it is a good idea to use this special folder.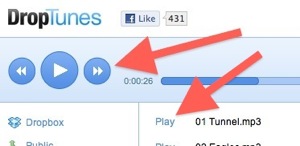 After your music is finished uploading to Dropbox, go to the folder in your browser using the DropTunes site and click or tap on the "Play" link next to the track you want to start streaming. When it is finished playing, it will move to the next song. If you want to advance it, then just tap on the skip button at the top left. The progress of the streamed file is shown above the list.
This service competes with Amazon's new Cloud Drive and Cloud Player service released at the end of March 2011. The added ability to stream music to iOS devices might make DropTunes preferable. However, there is one severe limitation to DropTunes – the amount of storage. A free DropBox account only provides 2GB of free storage (plus any extras you earn through referring friends or completing their tutorial or periodic scavenger hunts).
Amazon gives users 5GB for free and upgrades them to 20GB if they just buy one album. That 20GB is in addition to any albums they buy from Amazon's MP3 service. So, if you have 3GB of music purchased from Amazon after they released the Cloud Drive/Cloud Player, then you will actually get 23GB of free space for the first year.
Another consideration is that your music will sync to all of your computers by default. You may wish to use the selective sync feature in Dropbox and only sync your DropTunes folder with one computer, as DropTunes suggest on their "Info & Tips" page. Otherwise you may have very long synchronization times as it uploads and then downloads all of the music you put in the folder.
If you have a small library or a large Dropbox account and want to stream to an iOS device, then DropTunes is probably the best solution. It is also one of the simplest to set up and use. If you chose to use DropTunes but need another cloud storage or syncing service, check out our roundup of free online storage. It has a lot of great options, some of which offer synchronization in addition to cloud storage.
Advertisement