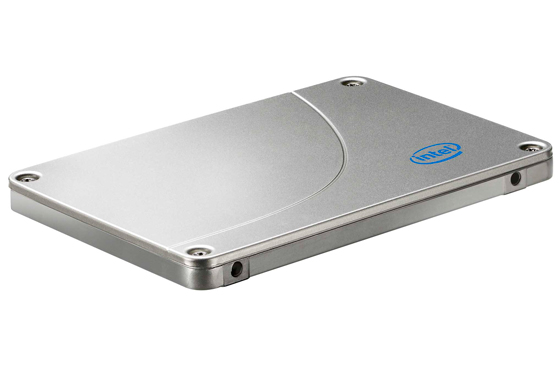 Solid State Drives, or SSDs, like those found in the snappy MacBook Air aren't limited to ultraportable laptops. You can add your own SSD to your current laptop and in many cases speed up your entire system. The speed improvements come from the design of SSDs which have no moving parts and can access information much faster than the slow, relatively, spinning hard drives found in most laptops.
We've tested the Intel X25-M and are were impressed with the benchmarking numbers as well as the real world improvements such as faster application launching, faster boot time and MacBook Air like resume time.
The two downside's to SSDs are price and size. While you can find typically get a huge laptop hard drive for under $100, you will need to pay around $500 to get a 256GB SSD. But, don't worry you can get a smaller SSD for under $200, like the 80GB Intel X-25M which is on sale at Best Buy for $179 this week.
Before you go looking for an SSD to put in your notebook, head over to Laptop Magazine to see how the current frontrunners compare in their SSD Battle Royale which pits the following SSDs against each other. They compared these Solid State Drives against a 7200RPM Hitachi hard drive.
Intel X-25M – 120GB – $230
[amazon_link id="B003NE5JCO" target="_blank" ]OCZ Vertex 2 – 120GB[/amazon_link] – $216
[amazon_link id="B0039SM0B2″ target="_blank" ]Crucial RealSSD C300 – 256GB[/amazon_link] – $520
[amazon_link id="B003Z6Q8YI" target="_blank" ]Samsung 470 Series – 256GB[/amazon_link] – $490
Laptop Magazine tested the read and write speeds as well as how fast the SSD contenders could copy large files, mixed files and zip a group of files. The test also involved seeing how well the drives handled application opening and multitasking. All of these tests were then takin into consideration to crown a winner — the [amazon_link id="B003Z6Q8YI" target="_blank" ]Samsung 470 Series[/amazon_link]. Head over to Laptop Magazine to see the full breakdown of stats and testing info before you buy a SSD.
Advertisement