At CES 2011 the Motorola Atrix 4G was one of the coolest things we saw, a powerful Android smartphone that could be placed into a Laptop dock for a larger screen experience complete with a full Firefox browser. The first reviews are starting to come in and so far the Motorola Atrix Laptop dock isn't earning high marks from anyone.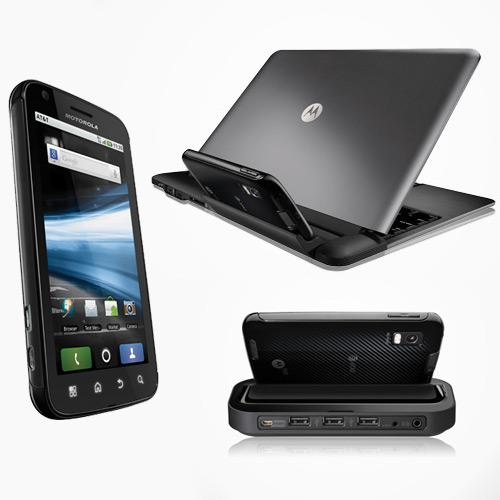 The price of the Motorola Atrix Laptop dock is one of many factors that are causing reviewers to look down on the laptop dock. When the Motorola Atrix 4G is set to arrive on February 13th on AT&T for $200, but if you want the Laptop Dock you'll need to pay $500 for the bundle and then an extra $20 a month to use the phone while it is connected to the laptop dock. Alternately you can purchase the dock later for $500.
Motorola Atrix 4G Demo from CES 2011
No matter which price you pay, you're still paying netbook prices for a device that can only be used with your smartphone AND requires a second $20 a month charge. Not exactly something that will attract users and has led many to question how much ubiquitous connectivity is worth.
Aside from the actual cost of the Motorola Atrix 4G laptop dock, reviewers haven't been impressed with the usefulness of the device.
Steve Kovach of Business Insider had the following to say in his review of the Motorola Atrix 4G;
The laptop dock feels like a waste. We can't think of a single practical use for it. The $500 add on is essentially a shell with a keyboard and screen that must be docked with the Atrix in order to function. It feels like Motorola added it just to prove they could get a laptop to run off a phone's hardware. As one of our colleagues put it: "It seems like they're on to something, but aren't there yet."
Scott Stein of CNet's Crave blog looked at how the Motorola Atrix 4G laptop dock compares to a laptop and came to the following conclusion;
So, who is this laptop dock for? It's unclear right now, but probably no one you know. It's undoubtedly fascinating technology and an eye-catching demonstration, but app support, a faster browsing experience, and a more competitive price are where phone/laptop hybrids need to go next. It's a compelling concept, and one we're certain to see revived in future smartphones. For now, I'd say skip the dock, but definitely check out the Atrix Phone
Both reviewers were impressed with the actual Atrix 4G phone, but it looks like until the next generation you will be better off picking up a capable netbook instead of a Motorola Atrix 4G laptop dock. You can certainly find a netbook at a better price!
Advertisement