The HP Pavilion dm1z is a new 11.6″ laptop unveiled at CES 2011 with the new AMD Fusion APU and while there are many Fusion notebooks here, the dm1z is has the best build quality we've seen and held. The dm1z is also very affordable with a starting price of $449, and is capable of much more than you'd normally get from an 11.6″ ultraportable — certainly more than your average netbook.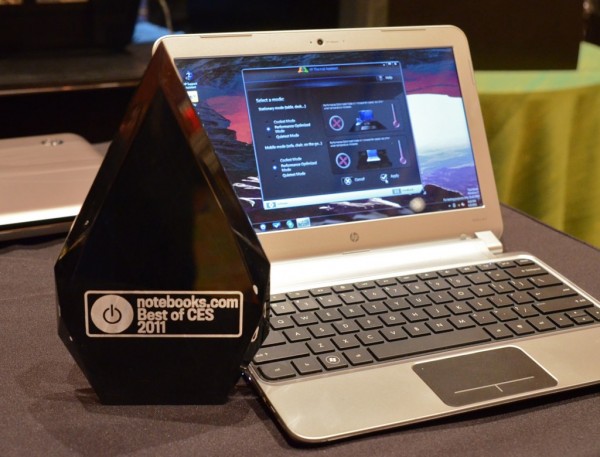 The biggest thing users will find with this Fusion powered laptop is that they won't be hitting the same walls that normally stop you from fully enjoying or working on your netbook. The dm1 is capable of playing HD video, a feat not normally found on netbooks or laptops of this size without dedicated graphics that add to the cost and give battery life a hit.
Battery life is another reason we chose the HP Pavilion dm1z. HP told us that the dm1z can run for 10 hours under optimal conditions and while it is unlikely that you'll get that in the real world, it should still be possible to go all day without a charger. One other thing that stood out with the dm1z is the CoolSense technology which kept the laptop noticeably cooler than other Fusion notebooks. Additionally, the HP dm1z will be available from Verizon with built in 4G LTE which will likely mean you can get one cheaper when you sign a two-year contract.
If all day battery life, portability and design are important to you — and you don't want to spend a fortune on a capable and small laptop then the HP Pavilion dm1z should be at the top of your list.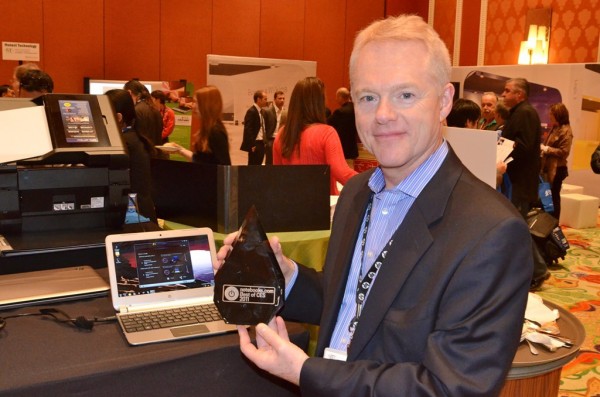 Fred Bullock , HP's VP of Marketing accepted the award.
The HP Pavilion dm1z is Notebook.com's choice for the best affordable consumer Notebook of CES 2011.
Advertisement