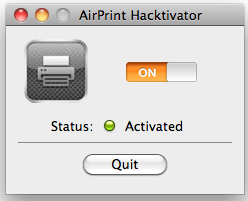 AirPrint was one of the things many users were waiting for in iOS 4.2 for the iPad and iPhone, but when it came out many printers weren't supportive of attempts to print without a cord. Well, fret no more, the Apple user community has come to the rescue with Hackivator, a method of enabling AirPrint on any printer that is attached to a Mac or Windows PC.
Once you install Hacktivator you can share your printer either wireless or connected to your computer with your iPad, iPhone or iPod Touch running iOS 4.2 in a matter of minutes.
The installation process is pretty simple, just make sure you are sharing the printer and that the AirPrint file is in the correct location and you are good to go.
You can download Hacktivator for Mac or for Windows 32 bit and 64 bit from the developers pages (translated from German).
How to use AirPrint with Any Printer (Video):
Via BGR
Advertisement