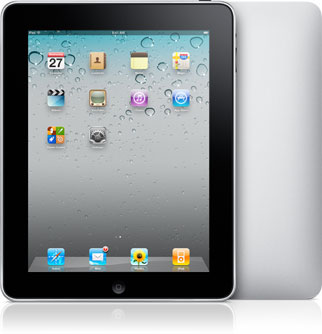 Earlier we wrote a brief article about why you might want to avoid buying the Apple iPad on Black Friday. In this article we'll take a look at five reasons you should buy an iPad on Black Friday. The Apple iPad is selling faster than any other new gadget in history. If you're thinking about buying an iPad, it may be time to pull the trigger.
Apple will be discounting the Apple iPad by about $50 starting on Black Friday.
Before you head out to buy the iPad or any other Apple product on Black Friday you should check out our Apple Black Friday resource center.
1. Apple's iOS 4.2 Mobile Operating System
Apple just released iOS4.2, its latest version of the mobile operating system (the software that serves as the foundation for the iPad's functionality and apps). iOS4.2 has a host of new features that brings the somewhat stale iOS3 iPad experience back on par with the iPhone's experience. The new interface allows for folders, Airplay and over 100 other new features.
2. Great for Travelling
In the previous article, we recommended waiting for the second generation iPad if possible. But that doesn't you much good if you're hoping to take the iPad on a long trip to the in-law's. The iPad's 10 hour battery makes it one of the best devices to travel with. You can watch five or six movies on a single battery charge, which is simply incredible. Doing even half that is impossible on most laptops. It's also compact enough to tote anywhere, but powerful enough to serve as a basic computing device for a few days. Many iPad users ditch their laptops at home for cross-country flights.
3. KIds Love It
According to a recent survey, about a third of all children are wishing for an iPad in the next few months. Whether you give the iPad to a kid or their parents for Christmas, you'll be their favorite uncle for years to come. Even if you buy the iPad for yourself on Black Friday, you'll be mister popular as your nieces and nephews will get to play with it when they come visit you. There are some excellent entertainment and education apps and games for kids. You can of course also rent recent movies, cartoons and TV shows.
4. Pairs Well with the Apple TV
If you have a new Apple TV, or are planning on buying one, you'll be able to use AirPlay on the iPad to send movies, photos and music to your HDTV. You could do the same with an iPhone, but the iPad has a far superior battery life and you don't have to shuffle between phone calls and enjoying your multimedia content. You can also just leave the iPad in the living room, while people usually bring their iPhones wherever they go. With the iPad, your family can finish a movie, even if you need to run to the store for candy and popcorn.
5. Great Resale Value
We're pretty certain that we'll see a new and improved Apple iPad within the next couple of months, making the first generation iPad obsolete. While the smart thing to do, at least financially, would be to just wait for the new iPad there is an alternative. You can sell it to a friend, family member or stranger on a site like eBay or Craigslist. You can also sell it to a reputable gadget buying service like Gazelle.com, which is currently offering $289 for a 16GB iPad. That means someone who bought an iPad when it originally launched would get almost 60% money back after using it for most of the year. Apple products typically have very good used resale value. This is a rarity in the world of nearly disposable gadgets, many of which are nearly worthless after less than a year.
If you're not on a tight budget, reselling an iPad after using it for a few months is a viable option.
https://www.youtube.com/user/Apple?v=FJWfReUwMSg
Here's an overview of the iPad from Apple
Advertisement