Black Friday iPod deals are finally available for purchase online at Best Buy. These deals are some of the best we have seen during Black Friday and best of all you can buy these Black Friday iPod deals online without spending all day in line.
These iPod deals are for sale at normal price, except the iPod Nano which is $10 off, but they come with a Best Buy gift card to sweeten the deal up to $50. You can score these Black Friday/ThanksGiving Day iPod deals online right now.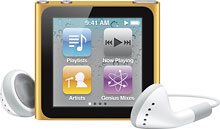 iPod Nano 8GB – $10 OFF – $139.95 at Best Buy plus Free Shipping: This new iPod Nano 8GB is the best deal we have seen for an online Black Friday deal. You can pick up the same size iPod Nano from Radio Shack in store with a $15 Radio Shack gift card, but the time you have to spend in store won't be worth the extra $5. This deal is valid until November 27th.
iPod Nano Video Demo:
iPod Touch 8GB – $30 Gift Card – $229 at Best Buy plus Free Shipping: This entry level iPod Touch is the new iPod Touch 4th Gen, which provides access to all types of apps, including over 200 which are on sale during Black Friday. If you need to find an iPod Touch before Christmas, this is the deal you need to get right now.
iPod Touch 32GB – $40 Gift Card – $299 at Best Buy plus Free Shipping: For users with more storage needs, check out the 32GB iPod Touch which comes with a $40 Best Buy Gift card. Other stores are offering the iPod Touch with a $50 gift card, but you'll have to wait in line. Again, your time is likely worth more than the extra $10 in savings. If you can afford the upgrade, jump up to this Black Friday iPod deal instead of the 32GB iPod Touch.
iPod Touch 64GB – $50 Gift Card – $399 at Best Buy plus Free Shipping: The most expensive 64GB iPod Touch is available form Best Buy with a $50 gift card online right now. This is a great deal and one of the few Black Friday iPod deals we have seen on the 64GB model which is well suited for users with huge music or video collections.
iPod Touch Video Demo:
Advertisement