It looks like iOS 4.2 for the iPhone, iPod Touch and iPad will arrive on devices by Friday, possibly by 6 PM today according to some reports. While it appears that iOS 4.2 may lose AirPrint, many iPad apps are gaining support for the rest of the new iOS 4.2 features like multitasking and Game Center.
Here are a collection of iPad apps that have already been updated to support iOS 4.2 — we expect more apps to support the new features as the apps are approved in the app store.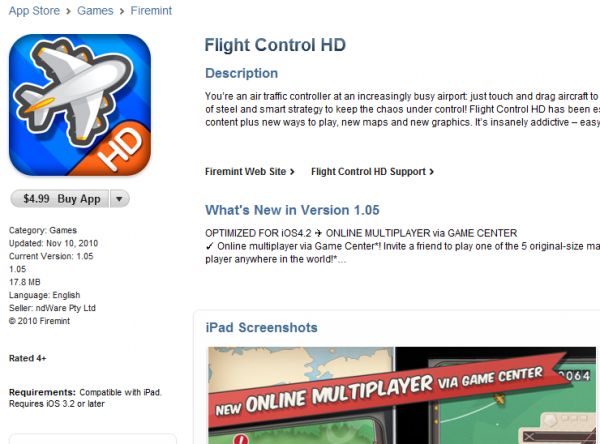 Flight Control HD: Gaining support for online multiplayer via Game Center for online play with a friend or random opponent. The iOS 4.2 optimized app update will also bring multitasking support and better quick save/resume for players.
Yahoo! Entertainment: Minor update to fix bugs in preparation for iOS 4.2
Nightstand Central for iPad: This handy app will allow iOS 4.2 users to receive background alarm notifications as well as faster app switching and "other new features!"
Labyrinth 2 HD: Gaining support for Game Center awards and leaderboards.
Big Bad Sudoku Book: Updated for Game Center support and multitasking.
OmniGraffle: AirPrint support, Multitasking support as well as other usability updates.
Twittelator: Multitasking support and faster switching as well as some speed improvements.
Speak It: Multitasking support, fast users switching, background Text to Speech playback etc.
Dropbox: Updated for iOS4.2 compatibility.
TED: iOS 4.2 compatibility and other improvements
Stay tuned for more iOS 4.2 App updates.
Advertisement