Apple just announced a major refresh to the MacBook Air line of notebooks including a new smaller 11.6″ MacBook Air. This joins the revamped 13.3″ MacBook Air, both of which use solid state memory, have a full size keyboard and trackpad, high resolution displays, unibody construction and a new look.
The new MacBook Air pricing is listed below, and you can find all the details and many more images of teh MacBook Air the MacBook Air 2010 announcement post.
11.6″ MacBook Air 1.4GHz 64GB $999
11.6″ MacBook Air 1.4GHz 128GB $1199
13.3″ MacBook Air 1.86GHz 128GB $1299
13.3″ MacBook Air 1.86GHz 256GB $1599
We'll be bringing you news on the Macbook Air (2010) as it develops and hope to have our own impressions and review up soon, but until then we have rounded up the best MacBook Air 2010 Hands on videos and first impressions from around the web.
MacBook Air Hands On Roundup:
MacBook Air (13-inch) first hands-on! (update: video!) – Engadget – "It definitely feels significantly bigger than the 11-incher, and we noticed the function keys are standard MacBook size, as opposed to the shrunken ones on the 11. We also noticed that it was seriously instant-on — we popped the lid open and closed several times while taking photos, and it was ready to go the second we opened it." – Joshua Topolsky
MacBook Air (11.6-inch) first hands-on! (update: video!) – Engadget: "All we can tell you is that this is one of the tiniest, thinnest, most lust-worthy laptops we've ever seen." – Joshua Topolsky
MacBook Air 2010 hands-on – SlashGear: "The 11.6-inch Air is incredibly thin, just like an iPhone 4 at its narrowest point at the front.  Nonetheless, it's also solid and bend-free, and the keyboard is as easy to use as a regular MacBook Pro.  The display is Apple's first 16:9 aspect panel, as is the 13.3-inch model." – Vincent Nguyen
see also, 11.6″ MacBook Air unboxing from SlashGear.
Hands-on with the 11.6-inch MacBook Air: This one goes to 11 – CNet: "By doing more to differentiate the product, and dropping the entry price, the new MacBook Air may succeed in carving out more than an enthusiast niche for itself." – Dan Ackerman
MacBook Air Hands On: First Impressions – GeekSugar: "Both MacBook Airs come with a MagSafe power connector, 2 USB ports, headphone jack, and a Mini DisplayPort, while the larger 13.3-inch model also comes with a SD card slot to easily upload your pics. There's still no Ethernet port, or optical drive, but you can buy connectors for an additional price if you need them. Best part, both models come with Wireless-N, which ensures you're getting super fast wireless connections." – Kristy Korcz
Video: 11-inch MacBook Air and 13-inch MacBook Air Hands-On: What's the Better Value? – Laptop Magazine: "At 2.9 pounds, the 13-inch Air is about 1.5 pounds lighter than the MacBook Pro with the same size display and it comes with a higher-resolution 1440 x 900 display.The 11-inch Air weighs just 2.3 pounds and goes with 1366 x 768 pixels. Both models measure from 0.16 to .68 inches, which is very svelte.  You now get a glass trackpad for gestures and you still have a full-size keyboard, but it's not backlit. Bummer. The good news is that both Airs offered strong tactile feedback when typing given their thin profiles, and because of the way Apple utilized flash memory, both ultraportables wake instantly and offer up to 30 days of standby time." – Mark Spoonauer
MacBook Air 11.6″ Hands On Video
MacBook Air 13.3″ Hands On Video
First Look: 11.6″ MacBook Air – Macworld: "The big change, at least compared to the previous MacBook Air models, is that the new Airs have finally adapted the glass-trackpad technology that was added to the MacBook Pro two years ago. Once again, though, the story's a bit dull: It looks, feels, and works just like you'd expect. Though the Air is only .11 inches thick at the same edge that contains the trackpad, the trackpad still depresses with a satisfying click." – Jason Snell
Note – MacWorld has one of the most detailed First looks including assessments of major points of concern such as speed. Check it out!
Hands-on with the new 11.6-inch MacBook Air – Ars Technica: "The "instant on" capabilities that Steve Jobs touted during the event are indeed sweet, but the feature only works from standby—it's not quite so instant if you power the machine off. The rep we spoke to wasn't sure of the resolution of the FaceTime cameras that come built-in, but the FaceTime app does appear to work with the e-mail address protocol." –  Jacqui Cheng
The MacBook Air's Killer Feature: Boot Time [Hands On] – Forbes: "Bootup takes less than 15 seconds, according to my watch. That's a good deal less than the roughly 50 seconds it takes my trusty Windows laptop to come to life." – Brian Caulfield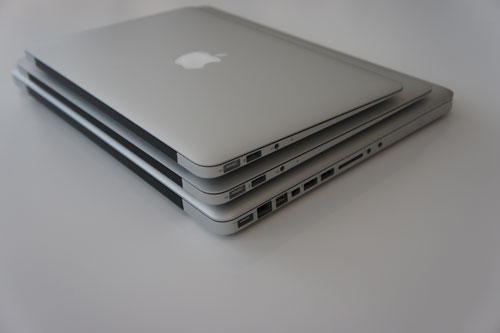 Apple Macbook Air 11.6 Inch, 13.3 Inch: Hands On – PC MAG: "The new features are, in a way, shocking, and I'll tell you why. The previous MacBook Air 13-inch only came with a single USB port, DisplayPort, and an audio jack. The new version features 2 USB ports, which are in plain sight, and the elusive SD card slot (the 11-inch version has two USBs, but no SD slot)." – Cisco Cheng
Hands-On With Apple's New MacBook Airs – WIRED: "Immediately you'll notice that launching an app is extremely fast on both of these notebooks, thanks to the use of flash storage.
Safari launched in a fraction of a second. Other apps were noticeably zippy with loading as well. The 11-inch model comes with either 64-GB or 128-GB flash storage, while its bigger sibling comes with 128 GB or 256 GB." – Brian X. Chen
Advertisement